Abstract
Over the past few decades, many researchers have studied the impact of transformational leadership on firm innovation. Their findings have provided evidence to demonstrate both the direct and indirect impacts. This paper also aim to examine this relationship again within the context of Vietnam's small and medium-sized enterprises (SMEs). To test the research hypothesis, structural equation modeling will be applied in this research. The datas for research testing are collected from 332 managers and key decision-makers from all types of SMEs. The finding shows that transformational leadership positively and indirectly influences firm innovation through learning orientation, employee creativity and creative climate. Furthermore, the finding also confirms that transformational leadership has a positive and significant impact on learning orientation, employee creativity and creative climate. Some managerial implications are proposed to the managers so that they can stimulate transformational leadership and promote firm innovation. Limitations and suggestions for future research are also provided inn this paper.

Keywords: Transformational LeadershipSMEsinnovationemployee creativitylearning orientation
Introduction
Competitiveness is one of the most important factors for enterprises to survive today's dynamic environment which is characterized by fast technology change, shorten product life cycle and globalization (Gumusluoglu & Ilsev, 2009). Therefore, in order to compete and to lead, enterprises need to be innovative and creative (Jung et al., 2003; Tierney et al., 1999).
The literature on management has strongly emphasized the essential influence of learning organization, creative climate and transformational leadership on facilitating firm innovation and creativity. Kanter (1983), Senge et al. (1994) state that leadership is essential for promoting firm innovation and transformational leaders are capable of nurturing employee creativity. Amabile et al. (1996) and Ekvall et al. (1983) also point out that a sufficient creative climate will enhance the performance and innovation of an organization.
Problem Statement
SMEs have long been well known as important engines for economic growth for both developed and developing countries (McMillan, 2002). They also contribute greatly to economic stability and social security in many different parts of the world. Acknowledging the importance of SMEs, since 1986, the Vietnamese government has paid a lot of attention to promoting their development. By 2017, 98% of Vietnam enterprises are SMEs which generated 40% of the country's GDP and more than 50% of all the jobs.
In order to grow and develop in this fast-changing market environment, Vietnam's SMEs need to enhance their competitiveness and innovativeness. However, within the context of sustainable development, a full exploration of determining factors for firm innovation is still scared and limited; especially for an emerging market such as Vietnam. Currently, most studies only address the relationship among firm innovation, transformational leadership and learning orientation (Calantone et al., 2002; Gumusluoglu & Ilsev, 2009; Jyoti & Dev, 2015). Furthermore, there is also a slack of empirical validation of the relationship among the internal element of enterprises and learning orientation (LO), firm innovation (FI) and transformational leadership (TL).
Research Questions
Is there any interrelationship among TL, creative climate (CC), employee creativity (EC), LO and FI?
Purpose of the Study
Correspondingly, following Calantone et al. (2002), Jyoti and Dev (2015) this paper aims to analyze the interrelationship among TL, creative climate (CC), employee creativity (EC), LO and FI. Firstly, this paper will explore the indirect impact of TL on FI through CC, EC and LO. Secondly, researchers will provide empirical support for TL, CC and LO as factors that directly and positively affect organization outcomes. Finally, practical implications will be provided to SMEs' managers within this field to improve their innovativeness and become better competitors in the market.
Research Methods
Literature review
Learning orientation and Employee creativity
Learning orientation can be referred to as an organization's attempt to analyzing, modifying the errors in its strategies and practice to react to the external and internal changes (Jiménez-Jiménez & Sanz-Valle, 2011). In addition, it may also be referred as the sharing of information, knowledge and experiences with others in order to create an optimal condition for an organization to be innovative, to perform better and to gain better competitive advantage (Calantone et al., 2002; Moorman & Miner, 1998; Vargas, 2015). Previous studies also show that learning orientation is made up of four important factors which are committing to learning, intra-organizational knowledge sharing, shared vision, and open-minded (Calantone et al., 2002).
According to Gong et al. (2009), creativity is the development of ideas which may enhance the performance's efficiency of an organization. Employee creativity can also be considered as an individual's accumulation of knowledge, skills and creative thinking which later be used to generate useful ideas for innovation and promoting the organization's competitive advantage (Amabile et al., 1996; Jyoti & Dev, 2015). Therefore, EC is among the most crucial factors for the working environment of an enterprise (Sosik et al., 1999).
According to Khedhaouria et al. (2017), Weisberg (1999), learning is a crucial factor for creativity. Learning activities within an organization may positively change the employee's behavior and inspired them to expand their knowledge and skills (Huber, 1991; Kohli et al., 1998). As a result, the creativity of employee will also be greatly enhanced. Therefore, this research's first hypotthesis would be
H1: A Learning orientation is positively associated with employee creativity.
According to Rubin et al. (2005), leaders with transformational style are more likely to have a positive influence their followers and inspire them to perform far better than their current capabilities. Furthermore, these leaders can also enhance the development of their followers' motivation, creativity, determination and performance through various instruments (Bass et al., 1987; Burns, 1978; Schmitt et al., 2016). These instruments include the establishment of a vision that is both challenging and beneficial to the recognition of followers' achievements; acknowledging the strengths and weaknesses of their followers as well as their wishes and expectations, acting as a model that can inspire followers with their energy.
According to Bass and Avolio (1995) and Sosik and Kaha (1998), one of the most important engine for promoting employee creativity is transformational leadership. By stressing the importance of visions and objectives of both the leader and the organization, the employee can be inspired and become more willing to take part in creative tasks (Gardner & Avolio, 1998). Furthermore, leadership with transformational style can significantly assist the employee's skill development process by establishing a model of behavior that strongly emphasizes on learning, knowledge acquisition; they can also encourage employees to provides new ideas in order to promote creativity (Khan & Khan, 2019). Hence, the second hypothesis is:
H2: Transformational Leadership positively influences Employee Creativity.
Many studies has found out that transformationnal leadership is closely associatted with learning orienntation (Bass, 1999; Noruzy et al., 2013; Senge, 2006). A transformational leader may act as a crucial element which does not only link processes together but also contributing in establishing a favorable environment for fostering learning orientation (García-Morales et al., 2012; Park & Kim, 2018). Howell and Avolio (1993), Khan and Khan (2019) also show that transformational leadership positively affects knowledge management. Through transformational leadership, employee's absorption is enhanced, constitutional structure is strengthened and absorptive capacity of an enterprise are also enriched (Cohen & Levinthal, 1990). As a result, the next hypothesis would be:
H3a: Transformational Leadership is positively associated with Learning Orientation.
Scott and Bruce (1994), define creative climate as a favorable working environment where employees are not restrained from expressing their opinions; they are also encouraged to make full advantage of the organization's resources, to take risks in order to produce creative approaches at work. Previous literatures have addressed that TL is essential for the promotion and strengthening of an organization's creative climate (Jaiswal & Dhar, 2015; Jung, Chow, & Wu, 2003). This leadership style also has a habit of establishing a working environment where employees are not only empowered but also supported in terms of innovation. Transformational leadership has two major components. These components are inspirational innovation and intellectual stimulation which both have positive impacts on creative climate. Through inspirational motivation, transformational leader shows the employees that they have high expectations over innovative behavior and the employees are encourage to take risk in producing innovative strategies(Wang et al., 2013). With intellectual stimulating, transformational leader will empower their employees and provide them with necessary resources; it will assist the employees to create better ideas and use these ideas as a potential solution for the organization's problem (Bass et al., 2003). Therefore, this research's next hypothesis is:
H3b: Transformational Leadership positively effect creative climate.
FI can be defined as the open-mindedness to the creation of new concepts and theories so that an organization can be more inventive, able to survive, to compete and to success in a dynamic and uncertain environment (Johnson et al., 1997; Jiménez-Jiménez & Sanz-Valle, 2011). Firm innovation has two main types: administrative innovation which include new policies, new procedures, and new organizational structures and technical innovations which include new production processes and services (Damanpour, 1991; Jiménez-Jiménez & Sanz-Valle, 2011)
Prior studies significantly highlight the important role of learning orientation as the foundation for promoting firm innovation (Alshanty & Emeagwali, 2019; Bello & Adeoye, 2018; Cahill, 1996; Damanpour, 1991; Liao et al., 2017; Mardani et al., 2018; Verona, 1999). Damanpour (1991) points out that when an organization pays more attention to learning, its core competency and innovation capabilities will also be promoted. Cohen & Levinthal (1990) also states that good knowledge acquiring will also help innovators to create new output and new knowledge. Furthermore, Adams and Lamont (2003) and Mardani et al., (2018) also propose that through a boost in innovation capability, knowledge management activities will have a positive impact on organization innovation as well as its performance. Hence, the next hypothesis is:
H4: Learning Orientation possitively influences Firm Innovation.
In comparison with transactional leadership, many literatures have strongly emphasized that transformational leaders can foster firm innovation and determine their market success. Transformational leaders who have strong devotion to guarantee the achievement of the innovation can directly inspire their workers to stop using the old techniques and find a new method to develop their knowledge accumulation and innovation capability (Bai et al., 2016). Newly established visions and ideas can also be brought into the operation of the whole organization by transformational leader in order to boost the innovativeness as well as the performance of the system (Ding et al., 2018; Hughes et al., 2018). Hence, the next hypothesis is:
H5: Transformational Leadership positively influences Firm Innovation.
The previous study expressed that a creative climate provides a favorable working environment where employees are free to propose and apply their creative ideas (Černe et al., 2013). Therefore, employee's creativity can also be considered as a fundamental construct for the foundation of innovation (Amabile et al., 1996; Shanker et al., 2017). Çekmecelioğlu and Günsel (2013) also state that managerial support which is also a characteristic of a creative climate can positively influence the promotion of innovation as employees are fostered to take risks, create new ideas, and accept uncertainty event. The creative climate also allow employee to engage challenging job without controls or constraint, they can also develop different approaches, ideas to solve the problem thus result in higher level of creativity and innovativeness (Çekmecelioğlu & Günsel, 2013; Ekvall & Ryhammar, 1999). Hence, the next hypothesis is:
H6: Creative Climate is positively related to Firm Innovation.
As stated in Oldham and Cummings (1996), Shalley and Gilson (2004), the creative employee is the type of employee who is not only willing to generate new ideas, but also devoting in studying and applying new techniques and method into their daily work. These activities will help the employee to produce an outstanding product, better solutions for the organization's current problem as well as to promote better organization's performance. As a result, creativity at the employee level may promote the advancement of innovation at an organization level. Therefore, employee creativity is among the fundamental factors which may lead to the development of firm innovation (Brunow et al., 2018; Shilling, 2006). Hence, the next hypothesis:
H7: Employee Creativity is positively related to Firm Innovation.
Figure 01 showed the theoretical framework.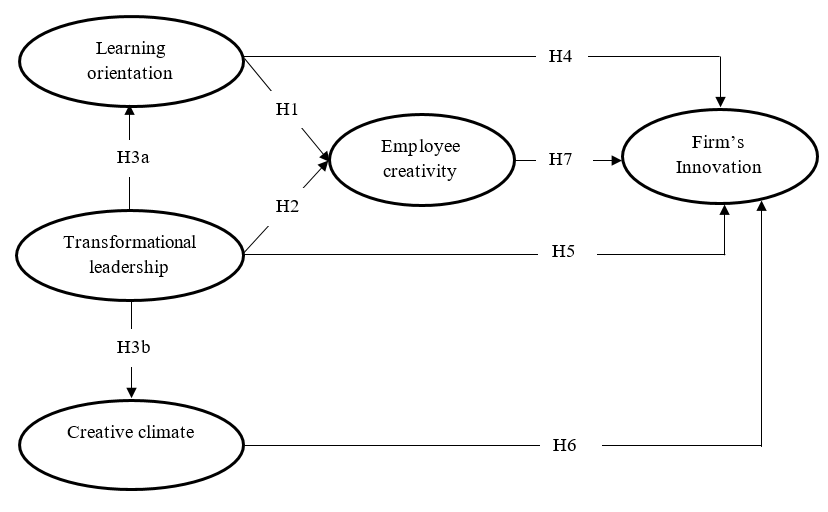 Measures
This research made use of the adapted measurement scales from previous comprehensive literature reviews (Calantone et al., 2002; Ekvall et al., 1983; Jyoti & Dev, 2015). Learning orientation which is the first construct from the conceptual model is adapted from Calantone et al. (2002). This construct allows participants to evaluate how the organization has conducted learning orientation at different levels in an organization. Transformational leadership's construct is adapted from Jyoti & Dev (2015). The participant will be able to examine the willingness of their manager and leader in involving themselves in transformational behaviors. Next, by adapting Ekvall et al. (1983) and Jyoti and Dev (2015), we establising the construct of creative climate and employyee creativity. The last construct that is firm innovation is originally developed from Calantone et al. (2002); it was then confirmed and adapted again by Noruzy et al. (2013). This construct allows participants to judge how an organization responds to the market change as well as how it made use of the current resource to enhance its innovativeness.
To assure there is an equivalence in meaning, all of the measurement scales were translated back and forth between the English and Vietnamese versions. Two English lecturers from the English faculty were also invited to examine the questionnaire before distribution. The five point Likert scale was used and applied to measure the variables of this research. These scale ranges from (5) "strongly agree" to (1) "strongly disagree". Hair, Black, Babin, and Anderson (2006) will be used to establish the sample sized of this research as this study clearly states that a sample size of between 200-400 would be enough for both regression analyses and structural equation modeling approach.
Data Collection
In order to analyse the data collection, a quantitative approach is implemented. The research's targets are managers of all types of SMEs, except for self-employed entrepreneurs without employees. Managers are chosen because they are the top decision makers responsible for running the business (Exposito & Sanchis-Llopis, 2018). Many researchers also believe that self-report made by managers may be applied to measure organizational strategy variables such as an organization's innovation and performance (Exposito & Sanchis-Llopis, 2018; Foreman-Peck, 2013; Ramadani et al., 2017; Ribau et al., 2017).
All of the SMEs in this research are domestic manufacturing and trading enterprises. The filter question is also included so that the respondent understands completely the character of their company as well as the research framework's constructs. There are 348 observations collected, and 332 observations are qualified for data analysis.
Findings
Reliability and validity assessment
Table 1 describes all items' mean as well as their corresponding standard deviation. Regarding reliability testing, all figures of Cronbach Alphas are beyond the requirement of 0.7. Therefore, we can conclude that the data satisfied the reliability assessment of George and Mallery (2003).
EFA is a statistical method applied to identify clusters of inter-correlated variables and underlying relationships between latent constructs in measured variables. Particularly, the Kaiser-Meyer-Olkin (KMO) measure 0.850 (bigger than the minimum threshold of 0.6), whereas Bartlett's test of sphericity met the requirement as the significance is 0.000 (lower than the maximum threshold of 0.005). The total extracted variance reached 68.952% (>50%), which interpreted that all factors explained 68.952% of data variation. The eigenvalue met the requirement to be higher than 1 (specifically 1.446). Besides, Table 1 also shows the measurement of EFA item loadings of higher than 0.5, satisfying the threshold.
Table 2 illustrated not only the average mean and standard variation of all variables but also correlations between five factors. Pearson coefficient is applied to analyze the relationship between two factors. Referring to the result, it causes no concern because all Pearson coefficients are less than 0.6.
Confirmatory factor analysis (CFA) is a measurement instrument to evaluate the relations of variables and their exist latent construct. According to Hu and Bentler (1999), a variety of criterions with their own thresholds are required to fulfill for model fit testing: Chi-Square/degrees of freedom (Root Mean Squared Error of Approximation (RMSEA) < 0.06; CMIN/df) is less than 3; Comparative fit index (CFI) is bigger than 0.9; Goodness For Fit (GFI) ≥ 0.9; Adjusted Goodness For Fit (AGFI) ≥ 0.9; and p-value of close fit (PCLOSE) > 0.05. Particularly, after conducing CFA, the result illustrated a good fit of model (RMSEA = 0.026, CMIN/df = 1.578, CFI =0.969, GFI =0.923, AGFI =0.901, and PCLOSE = 0.92), representing that all model fit indicators meet and satisfy the acceptance requirement.
Convergent and discriminant validity
Convergent validity is examined through two indices. The first indices is Composite reliability (CR); the second indice is Average Variance Extracted (AVE). After calculation, Table 3 represents that the results of AVEs were greater than 0.5, while all CRs were greater than 0.7. Therefore, all factors of the model with their items satisfy the convergent validity. In terms of discriminant validity, the values of MSV should be lower than AVE. Moreover, inter construct correlation should also be lower than the Square Root of AVE. Table 3 also showed that discriminant validity is satisfied.
Figure 2 illustrated the testing results from conducting a structural equation model approach. According to the result, the coefficient on the path from LO to EC is 0.154 (p<0.05). Therefore, this positive relationship gives evidence to support Hypothesis 1. The coefficient from TL to EC is 0.380 (p<0.001). Therefore, this positive relationship provides evidence to support Hypothesis 2. The two paths from TL to LO and CC have estimates of 0.277 and 0.546 with (p<0.001), supporting H3a and H3b. The coefficient on the path from Learning orientation to a Firm innovation is 0.254 (p<0.001), showing support for H4. The path from transformational leadership toward Firm Innovation has a coefficient of -0.005 (p=0.948); therefore, H5 was not supported. The two paths from CC and EC to FI have a coefficient of 0.179 (p <0.05), and 0.180 (p<0.05); therefore, supporting H 6 and H7.

Notes: ***p<0.001, and *p<0.05.
Conclusion
The empirical examination of the conceptual framework of Vietnam's SMEs contributes to the existing literature. The first contribution is the confirmation that in similarity with prior study, this research also displays learning orientation as an essential factor toward the foundation of firm innovation.
This research also contributes to the confirmation that transformational leadership does not directly effect firm innovation. The contradiction is inconsistent with previous research (Gumusluoglu & Ilsev, 2009; Noruzy et al., 2013). Most of them provide the support that a leader who has transformational style is positively accomplished with firm innovation Unlike previous studies, the studies of Vietnam's small and medium sized enterprise reveal that TL has no contribution to FI. Instead, other results show that TL has positive and indirect impacts on a FI through LO, EC and CC.
This research's second contribution is its affirmation that leader who has transformational style has a highly significant influences on EC, CC and LO. These results are in line with previous literature as Berson et al. (2006) also emphasize the role of TL by stating that the learning process at different levels of analysis clearly demonstrated the role of leaders in facilitating organization learning. Noruzy et al. (2013) support this by stating that leaders who have transformational style aid to strengthen learning outcomes in an organization. On the other hand, Gumusluoglu and Ilsev (2009) also stated that a leader who has transformational style significantly enhance the development of creativity at both the organizational and individual level. They also pointed out that leaders can create a working environment enhancing innovation as well as creativity that acts as guiding principles to promote outstanding innovative work processes.
The result of this research also verifies that there is direct as well as positive influences of learning orientation, creative climate and employee creativity on firm innovation. Among these three factors, learning orientation stood out as the factor that has the strongest positive impact. This result supports previous literatures such as Calantone et al. (2002) as they strongly highlighted the importance of learning orientation and stated that the innovation itself is the extended process of learning which leads to the establishment and appliance of new concepts, outputs, and processes.
Based on the above discussion, this research confirm that within the context of Vietnam's SMEs, there is a positive and indirect effectt of transformationnal leadership on firm innovation. Furthermore, the result also reveals that learning orientation, creative climate and employee creativity play an important role in connecting transformational leadership to firm innovation. If a leader who has transformational style underestimates the value of these factors or ignores them they will not be able to improve their firm innovation directly.
Managerial implications
This research suggests some managerial implications for the firm manager and business practitioner. First, the research shows that TL plays an essential role in enhancing the innovation of firm through learning orientation, creative climate, and employee's creativity. Therefore, firms must promote transformational leadership to foster these factors. In term of learning orientation, transformational leaders must learn the strength and weakness of their employees and base on that, design strategies which can help to orient their development and nurtures their learning efforts. In term of creative climate, transformational leaders may create an environment where an employee can learn and share their knowledge and experience among themselves. A transformational leader can empower their employees by implementing valuable strategies to enhance creativity (Jyoti & Dev, 2015).
Second, learning orientation should be put at an essential strategy-making process by the transformational leader to promote firm innovation and employee creativity. The leader should encourage their follower to use a part of company time to develop and their knowledge which lies beyond the extent of their work. In addition, through cross-functional integration, an employee may generate new technique and knowledge which may help to foster their creativity.
Finally, the result of this research also reveals that CC, LO and EC play a mediating role that connects TL and FI. Therefore, managers and leaders of SMEs in Vietnam should not ignore the important role of these factors as without them, they may not directly improve their firm innovation.
About this article
Publication Date
06 October 2020
Article Doi
eBook ISBN
978-1-80296-087-7
Publisher
European Publisher
Edition Number
1st Edition
Subjects
Finance, business, innovation, entrepreneurship, sustainability, environment, green business, environmental issues
Cite this article as:
Mai, K. T., Hoang, L. T. M., Nguyen, P. V., & Ho, Q. N. (2020). The Influence Of Transformational Leadership And Learning Orientation On Firm Innovation. In Z. Ahmad (Ed.), Progressing Beyond and Better: Leading Businesses for a Sustainable Future, vol 88. European Proceedings of Social and Behavioural Sciences (pp. 849-862). European Publisher. https://doi.org/10.15405/epsbs.2020.10.77