Abstract
Due to the great importance of the English language nowadays, Israeli educational authorities have established a goal of reaching the highest achievable standards of excellence for teaching and learning English as a Foreign Language in Israeli schools. In order to achieve this aim, various factors have to be taken into consideration. The current paper is a fragment of the study which aimed to identify diverse factors, linguistic as well as non-linguistic, that predict acquisition of English as L3 by bilingual children of the immigrants from the FSU in Israel. This paper seeks to present and discuss the relationship between CLI, learners' ethnicity and L3 acquisition. Both bilingual learners of English as L3 ( n=32 ), between ages 11-12, born to the immigrants from the FSU in Israel and their parents ( n=32 ), took part in this investigation. The L3 acquisition was measured by the means of grades achieved in the English proficiency test (mean = 90, Sd = 7.7). The relationship between CLI, ethnicity and L3 acquisition was analysed by multiple linear regression model (r2 = 0.433 F = 11.08 df = 2 Sig.< 0.001). Both factors, CLI and ethnicity, were found as significant predictors of L3 acquisition. The higher score in English test was found in L3 Jewish learners as opposed to their Non-Jewish peers, with a low percent of Total Transfer Errors.

Keywords: L3 acquisitionethnicityCLIEnglishbilingual
Introduction
The development of technologies, great mobility as well as social and cultural growth, have promoted English as the lingua franca used in various areas of human life ( Cenoz, 2004; Ellinger, 2000). In today's era of globalization, English is very often seen as a predictor of social and economic success ( Yuko, 2013) which in turn enhances learning of English as the main international language throughout the world for personal and communicational purposes ( Ellinger, 2000; Kernerman, 1994; Yuko, 2013). Also in Israel, where English is used in areas such as tourism, business, technology, media and academy, to name only some ( Ellinger, 2000; Haim, 2014; Shohamy, 2014), it is taught as a foreign language (FL) in most Israeli schools from third to twelfth grade ( Shohamy, 2014). In order to reach the highest standards in FL education in Israel ( Ministry of Education, 2013), diverse factors have to be taken into consideration whereas one of them is learners' characteristics ( Lightbown & Spada, 1999).
This paper is an excerpt of the study which aimed to identify factors that promote acquisition of English as L3 learnt in a formal setting in Israeli schools by bilingual children born to the immigrants from the former Soviet Union (FSU). While the larger-scale investigation intended to examine correlation between various factors and L3 acquisition, this paper aims to present and discuss only the relationship between ethnicity, CLI and L3 acquisition.
Problem Statement
Despite multiple studies in the field of L3 acquisition, there is no definite answer to the question which factors promote L3 acquisition by young bilingual learners as it might be conditioned to certain linguistic, cultural and social-psychological variables.
Research Questions
The research question this paper aspires to provide an answer to is: "To what extent does the ethnic identity affect the L3 acquisition?" It was hypothesized that a difference will be found between students from the Jewish families and students from the Non-Jewish families regarding the L3 acquisition.
Purpose of the Study
The purpose of the larger-scale study, this paper is a fragment of, was to understand which factors contribute to acquisition of English as L3 learnt in a formal educational context by bilingual children from the families of the Russian speaking immigrants in Israel.
Research Methods
In order to explore factors that predict L3 acquisition, a mixed-methods design which allows for a mixture of diverse methods at different stages of the investigation and provides a more solid data, was employed. Hence, the instruments used for collecting the required data were adopted from both a quantitative research, i.e., a questionnaire and tests, as well as a qualitative study, namely, audio- and video recordings of the wordless picture story.
Findings
The final sample of the study comprised bilingual children (n=32) and their parents (n=32) . The major portion of demographic and linguistic data were self-reported by the adult participants. Most parents self-reported as being Jewish (75%) born in the FSU (97%). Children reported that Russian is spoken in 53% of the families from the sample, 13% speak Hebrew as the main language and 34% use a combination of Russian and Hebrew for the interactional purposes in the home.
The English test score was used as an indicator of the English language acquisition. The test scores are relatively high. An average score is 90 (SD = 7.7). The distribution of scores is presented below in Figure 01 .
A univariate analysis was performed to examine a relationship between ethnicity and L3 acquisition measured by the means of the English proficiency test score. The difference between 24 Jewish and 8 Non-Jewish students was tested by employing a t-test for two independent groups. The average score for the Jewish learners was 91.4 (Sd = 7.83) and the average score for the Non-Jewish learners was 86.7 (Sd = 6.56). Despite the significant difference between the averages, the distinction between the scores of two groups was found statistically insignificant (t = 1.51 df = 30 Sig = 0.141).
A difference between 17 learners reporting that Russian is the main language spoken in the home, 4 learners who reported that Hebrew is the main home language and 11 learners claiming to speak both languages in the home, was tested by performing the ANOVA test. The mean scores in all three groups are very similar (89 to 90.7) and the difference is statistically insignificant (F = 0.083 df = 2.29 sig = 0.921).
The statistical conclusion based on the univariate analysis did not confirm the hypothesis of this study and no connection between ethnicity and the acquisition of English as L3 was found.
However, during further statistical investigation, it was found that CLI is a variable that is influenced by ethnicity (see Table 01 ) and is closely related to the English test score (see Table 02 ).
The results presented in Table 01 indicate that both Jewish and Non-Jewish learners make almost the same number of total transfer errors, yet Jewish learners tend to transfer more lexical items from Hebrew as opposed to their Non-Jewish peers who tend to transfer more lexical items from Russian. Also, Non-Jewish learners perform more lexical transfers from both Russian and Hebrew than their Jewish counterparts. In addition, Jewish learners perform more syntactic transfer errors from Hebrew, whereas Non-Jewish learners make more syntactic transfer errors from Russian. Further, Non-Jewish learners use Russian for interactional strategies more often than their Jewish peers, while Jewish learners use Hebrew for interactional strategies slightly less often than the Non-Jewish learners. As for the transfer lapses from Russian, the difference between two groups of learners is insignificant, however transfer lapses from Hebrew is more frequent among Jewish learners.
The data from the findings presented in Table 02 indicate that total percent of transfer errors are negatively correlated with the English test score. Lexical transfer from Russian is negatively correlated with the English test score unlike lexical transfer from Hebrew which is positively correlated with the English test score.
The statistical correlation between CLI and ethnicity and the statistical correlation between CLI and the English test score were the basis for a multivariate analysis used to predict acquisition of English as L3. The relationship between various aspects of CLI, ethnicity and L3 acquisition was analysed by employing a multiple linear regression model (R 2 = 0.433 F = 11.08 df = 2 Sig.< 0.001). Both factors, CLI and ethnicity, were found as significant predictors of L3 acquisition. The higher score in the English test was found among the L3 Jewish learners with a lower percent of total transfer errors from both Russian and Hebrew as opposed to their Non-Jewish peers (Figure 02 ).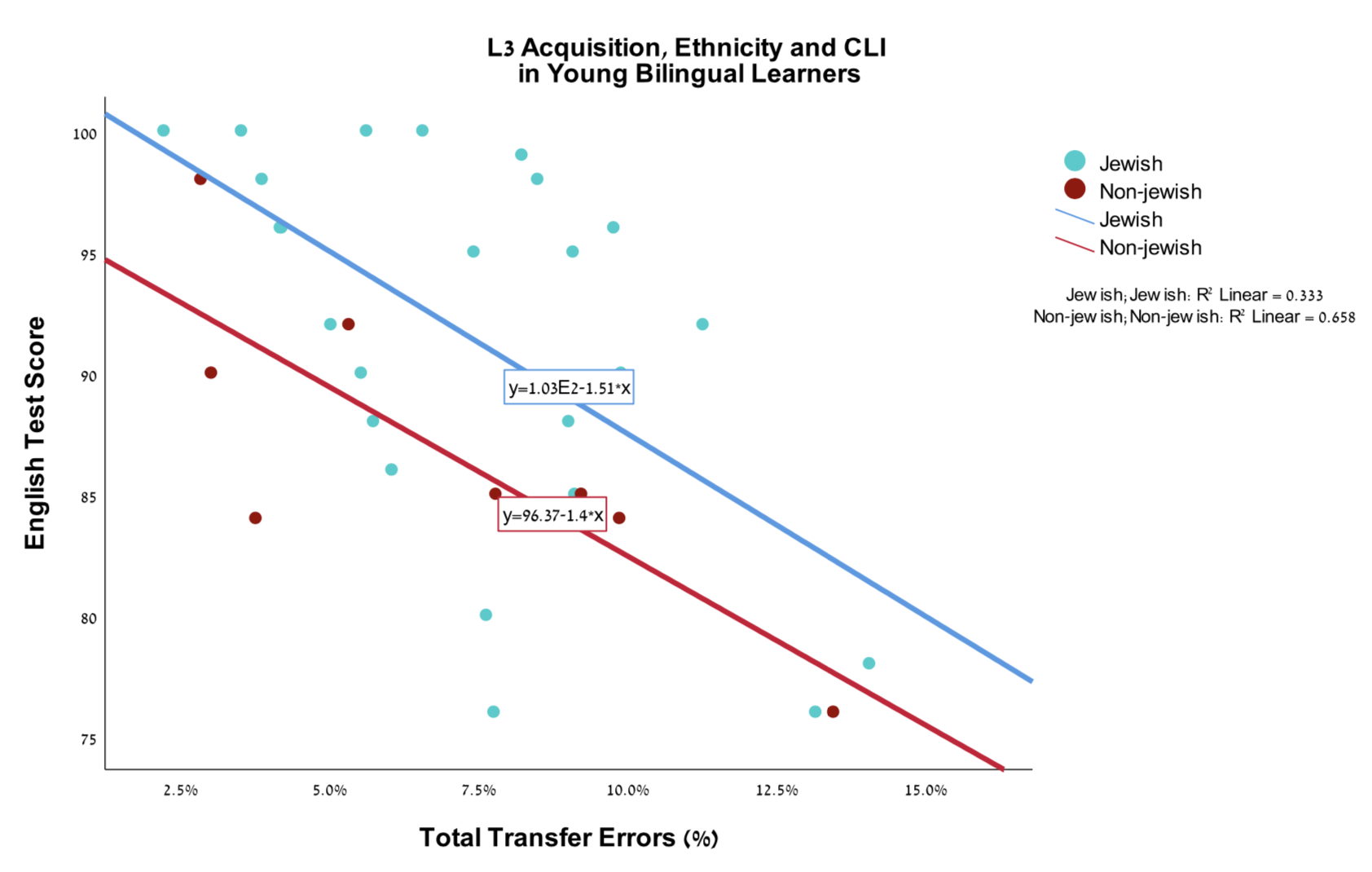 Conclusion
The findings of the present study indicate that both Russian and Hebrew languages are used as default suppliers for overall lexical transfer, but while Jewish learners use Hebrew as the source language, Non-Jewish learners employ Russian for this purpose. The difference between two groups regarding the choice of a default language designates that Hebrew language appears to be part of Jewish learners' ethnolinguistic identity while Russian language is inseparable constituent of Non-Jewish children's linguistic and cultural identity. This idea is compatible with Ellinger's (2000) claim that one's ethnolinguistic identity determines preference of one language over another. Nevertheless, it has been taken into consideration that a choice of a supplier language can be conditioned to the learners' belief that Hebrew and English (in the case of Jewish learners) or Russian and English (in the case of the Non-Jewish ones) are typologically close languages as they share certain cognates . Also, while in the case of Jewish learners lexical transfer from Hebrew has a positive impact on learning of English, in the case of the Non-Jewish learners its impact is negative. This finding is compatible with the one made by Westergaard et al. ( 2017) who claim for both a facilitative and non-facilitative impact of all previously acquired languages due to the "linguistic proximity at an abstract level" (p.677).
In addition, it was found that less proficient English learners tend to make more transfer lapses errors. This finding corresponds with the evidence obtained from the earlier studies which maintain that the less proficient L3 learners tend to transfer more items from their L1 and L2 and the situation changes as learners become more proficient in L3 ( Cenoz, 2001; Hammarberg, 2001; Ringbom, 2001).
In conclusion, Jewish learners tend to produce more errors while relying on Hebrew as their source language while errors made by Non-Jewish learners are affected by Russian. This finding is consistent with Spolsky's ( 1996) assertion that one's ethnic identity defines the choice of the main source language.
Acknowledgments
This paper is part of a doctoral research at BBU, Cluj Napoca, Romania with Professor Dr. Stefan Oltean as an advisor.
About this article
Publication Date
17 June 2020
Article Doi
eBook ISBN
978-1-80296-084-6
Publisher
European Publisher
Edition Number
1st Edition
Subjects
Teacher, teacher training, teaching skills, teaching techniques, special education, children with special needs
Cite this article as:
Ross-Sokolovsky, I. (2020). The Relationship Between Ethnicity, Cli And Acquisition Of English As L3. In & V. Chis (Ed.), Education, Reflection, Development – ERD 2019, vol 85. European Proceedings of Social and Behavioural Sciences (pp. 374-386). European Publisher. https://doi.org/10.15405/epsbs.2020.06.37