Abstract
Corporate Social Responsibility, or better known as CSR is a buzz word used in business. However, in practice, CSR is frequently associated with philanthropy activities. Academia on the other hand, provides a broader meaning of CSR, where more often than not include other dimension such as ethics. Nonetheless, of late, there are criticism to both, companies and the academia. Critiques raised the issue of lack of the theoretical understanding of CSR and the non- representative of the social reality. There are pressures for companies to give more, particularly in respect of practicing green friendly businesses, i.e environment protection. However, companies struggling with how to practice green friendly business. The goal of this study is to compare and contrast two kind of CSR models; (a) Gandhi's Model and (b) Caroll's Model to understand of how corporations could use the models as green forces in order to develop environmental protection mechanism as part of their corporate social responsibility (CSR) initiative. The study suggests that a clear understanding of the four green forces are necessary for successful implementation of environmental protection practice.

Keywords: CSRGreen ForcesGhandi's ModelCaroll's ModelEnvironmental Protection
Introduction
Due to the rising pressure, globally corporations are taking the interest and initiatives to adopt environmental protection as part of their CSR. Corporations realized that the efforts in engaging in the environmental protection initiatives i.e. green process benefits corporations. Interestingly, there are empirical evidence proved that Environmental Corporate Social Responsibility (ECSR) influenced firm performance (Giannarakis et al., 2016). Mostly studies within this context relate forces as the influencing factors. Institutional theory confirmed the relationship between forces and firms action. Institutional theory explained that firm which conform to the rule, norms and social expectation forced corporations to adopt certain practice (Guler, Guille´n, & MacPherson, 2002).
In Malaysia for instance, there are several coercive forces developed in response to the society's pressure towards ECSR practicing corporations. Bursa Malaysia, which serves as regulatory body of all public listed companies (PLC) in Malaysia, has launched CSR guideline for Public Listed Companies (PLC). The guideline provide various areas that corporations could indulged in CSR activities including environment aspect. Further environmental measure was the introduced of Sustainability Management Framework on ISO 14001 and Green Gas (GHG) protocol. As regulatory body, Bursa Malaysia, mandated the environmental protection to corporation in Malaysia.
Problem Statement
CSR has been in existence since 4000 years ago (Visser & MacIntosh, 1998). However, only in the last several decades the topic was made popular, as it captured the attention of companies and academia. To think of it, it is the popularity began when Carroll introduced the pyramid of social responsibility in 1970's, known as Carroll's CSR Model. Carroll CSR Model precedes the other CSR model because of its robustness and extensiveness (Crane & Matten, 2004). Regardless of its credited robustness, there are criticism on the model where there are views that the model is inadequate to meet the demand of the twenty first century business environment. Some said the model is too economic and lack of environmental protection responsibility (Nalband & Al Kelabi, 2014). Some claims (Visser, 2006) that the model is not in sync with the new phenomenon hence could not explained the holistic CSR activities especially in environmental issues and it does not completely consider the significance of stakeholder impacts (Waddock, 2004).
Research Questions
How Corporate Social Responsibility (CSR) model on environmental protection should look like?
Purpose of the Study
The goal of this study is to compare and contrast two kind of CSR models; (a) Gandhi's Model and (b) Caroll's Model to understand of how corporations could use the models as a green forces in order to develop environmental protection mechanism as part of their corporate social responsibility (CSR) initiative.
Research Methods
To answer the research question, a review of the literature related to Carroll's CSR Pyramid Model and Gandhi's Four Forces Model was conducted. The results of the literature reviews had been critically analysed to compare and contrast the practical CSR model especially to accommodate environmental protection initiative.
Findings
Early CSR model
Literatures specify that an initial CSR model highlighted economic objective as important element to be observed. Carroll (1979) established an eminent 'Three Dimensional Conceptual Model of Corporate Performance', which examined the diverse areas of CSR (specifically, environment, societal, legal, and economic), which overlay with one another. Carroll's CSR model has been the most vigorous and comprehensively cited in the literature Crane and Matten, (2004) notwithstanding the presence of abundant definitions/models and CSR alternates (see figure 1 ).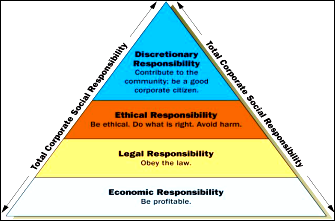 Economic responsibility
Traditionally, business organizations were formed as economic bodies established to offer goods and services to the public. The profit objective was recognized as the main motivation for private enterprise. Previously, business organization was the elementary economic entity in our culture. As such, its primary purpose was to provide goods and services that consumers required and to create satisfactory revenue in the practice. The idea of the profit objective got converted into a belief of maximum earnings, and this has been continuing assessment from time to time. All other business accountabilities are grounded upon the economic obligation of the business organization, for the reason that without it the others become debatable considerations.
Legal responsibility
As a partial fulfillment of the "social contract" between business and society firms are expected to pursue their economic missions within the framework of the law. Legal responsibilities reflect a view of "codified ethics" in the sense that they embody basic notions of fair operations as established by our lawmakers. They are depicted as the next layer on the pyramid to portray their historical development, but they are appropriately seen as coexisting with economic responsibilities as fundamental principles of the free enterprise system.
Ethical responsibility
Although economic and legal responsibilities embody ethical norms about fairness and justice, ethical responsibilities embrace those activities and practices that are expected or prohibited by societal members even though they are not codified into law. Ethical responsibilities embody those standards, norms, or expectations that reflect a concern. The business ethics engagement of the previous era has decisively recognized an ethical obligation as a valid CSR element. Although it is portrayed as the following level of the CSR pyramid, it must be continuously accepted that it is in vigorous relationship with the legal responsibility category. That is, it is persistently force the legal duty to expand whereas at the equal time employing higher perceptions on corporate people to work at levels beyond that required by law.
Philanthropic/ Discretionary responsibility
Philanthropy incorporates those commercial activities that are in reaction to the public's belief that companies be morally corporate citizens. This consist of outstanding activities to support social wellbeing programs. For instance, contributions or decision making of businesses to financial resources such as donations to the arts, education, and participation in the community services.
The pyramid of corporate social responsibility is depicted in figure 1 . It portrays the four components of CSR, beginning with the basic building block notion that economic performance undergirds all else. At the same time, business is expected to obey the law because the law is society's codification of acceptable and unacceptable behavior. Next is business's responsibility to be ethical. At its most fundamental level, this is the obligation to do what is right, just, and fair, and to avoid or minimize harm to stakeholders (employees, consumers, the environment, and others). Finally, business is expected to be a good corporate citizen. This is captured in the philanthropic responsibility, wherein business is expected to contribute economic and human resources to the community and to improve the quality of life.
Nevertheless, Carroll's model have been criticized in many ways. Some pointed out that;
In observing the criticisms on debatable issues against Carroll's CSR model and in discovering an appropriate model for environmental protection, the latest green CSR models later was deliberate in order to recognize the gaps and answer the research questions (see table 1 ):
In sum, although majority of the newest models suggest a wider standpoint of CSR essentials, they do so without completely focusing on how to counter to the present issue (i.e. environmental protection), which is the most problem faced by many business organizations.
Gandhi's Four Forces Model: The answer for environmental responsibility initiatives
Though CSR is a topic that is rampant and commonly studied, the literature on this is still quite fragmented. Indeed there are few studies on environmental protection, particularly understanding the process. Through our observation, we found studies in CSR relates very much on the philanthropy aspect, focusing on the outcome rather the process of CSR. The lack of focus on process lead us to investigate the issue in respect of providing deeper insight about CSR from the perspective of green process. Our focus on Ghandi's Model contributes to the idea that green forces could enhance the practice of CSR from the environmental protection aspect of doing business. Through a close reading of the literature we observed a pattern of underlying explanation related to forces that associated with environmental protection. We arrayed the pattern based on commonality of the forces. We found that regulatory, financial and social forces are among the common forces that initiate environmental protection.
Ghandi's Model depicted four forces that support environmental protection. Gandhi's model explained that there are two aspects of implementing environmental protection, as following (Rojsek, 2001):
Inter-organizational: employees, suppliers, consumers and those directly connected to business organization's productivity.
Intra-organizational: community stakeholders (society and environmental groups) and regulatory stakeholders (government, trade associations, informal networks, and a given companies' competitors). Regulatory stakeholders other than government may have the influence to persuade government to arbitrate for the environmental protection concern.
Therefore, this study recognized four forces proactively act as the key motivations for greening the industry, specifically three external forces: regulatory force, community force and consumer force and one internal force: financial benefit. Except financial force, all other forces are giving remarkable forces on the business organizations to be green. These four forces are shown in the figure 2 :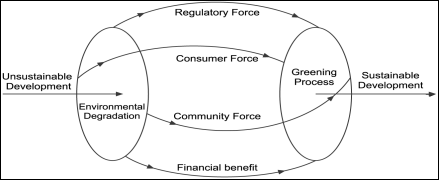 Regulatory force.
Literature indicated that the green concept is most common in the west compared to the east (Srivastava & Srivastava, 2006). It is noted that the regulatory forces motivated the western countries to practice the concept of green. Martinsions et al., (1996) states that the United States regulatory force, back to twenty years ago has made it obligatory to buy goods and services that pose less impacts on the environment. Topfer's law in Germany forces business organizations to improve product packaging design towards green initiative (Martinsons et al., 1996). According to Topfer's law, business owners, producers and manufactures are obligated to get back 80 percent of the used packaging for reusing and recycling. These obligatory environmental assessments and stricter regulations in many states have enforced business organizations to place more attention on environmental protection initiatives (Quazi, 2001).
Community forces.
Community forces was found as another green forces that was associated with environmental protection. According to Kumar (2003), the formidable force on the business industries for cultivating the environmental performance has been initiate by the green movement through registered and unregistered community groups.
Hayward (2003) also added that environmental quality degrades throughout the initial phases of economic development but begins to recover after national income is in stability. It is due to the capability of wealthy society to improve their own lives better in terms of safety, health condition, and cleaner environment.
Consumer forces.
Presently, consumers are more knowledgeable in terms of information and awareness of products they purchased specifically on its impacts on environmental and human health. As consequences, improving the environmental performance of products and productions services are mandatory among firms in order to fulfil consumers' expectation and demand (Khandelwal, 2003).
In Germany for example, the Blue Angel seal is noticeable on all green products. This is because, customers with high environmental awareness valued for eco-labelled goods and services. The trend on consumers' environmental consciousness proved that purchasing power of consumers can have tremendous impact on companies' profitability. Furthermore, strict environmental legislation on companies' practices due to green expectation from consumers has changed the environmental concern and strategy among the industries (Roarty, 1997).
Conclusion
Social responsibility has always been the bridge between businesses and society. Social obligation of a company towards its society always associates the motive of increasing profit so that the company will be able to contribute back to the society (for example, in terms of improving public amenities which later would enhance better living condition in the society). However, current issues of social environment such as global warming, earth pollution and acid rain could not be solved only by linking the corporate objectives to various outcomes (for instance philanthropy objective) although there is nothing wrong for such thinking. Numerous studies had supported the idea of green paradigm in order to show the vital role played by company nowadays. Based on Gandhi et. all (2006) work on greening forces, this study found several differentiations with early well-known CSR model- Caroll's Pyramid Model. Firstly, greening forces look at the sustainable development for business greening which is in line with environmental protection (EP) initiative. Gandhi's model is looking towards sustainable development concept which accommodate specific objective in EP initiative. Secondly, Gandhi's model looking on green forces focus on improving the environmental performance from unsustainable development towards sustainable development which become the centre of attention nowadays. Previous model of Carroll's proposed idyllic concept of philanthropy terms generally without giving full information for every process involved, especially on how to green.
Acknowledgments
Special thanks to Universiti Tenaga Nasional for funding this research under the Bold 2025 Start-Up Grant Scheme (RJO10289176/B/1/2017/6).
About this article
Publication Date
31 July 2018
Article Doi
eBook ISBN
978-1-80296-043-3
Edition Number
1st Edition
Subjects
Business, innovation, sustainability, environment, green business, environmental issues, industry, industrial studies
Cite this article as:
Kaman, Z. K., & Othman, Z. (2018). Carolls' Model And Ghandi's Four Forces Model: The Choice Of Going Green. In N. Nadiah Ahmad, N. Raida Abd Rahman, E. Esa, F. Hanim Abdul Rauf, & W. Farhah (Eds.), Interdisciplinary Sustainability Perspectives: Engaging Enviromental, Cultural, Economic and Social Concerns, vol 44. European Proceedings of Social and Behavioural Sciences (pp. 297-305). Future Academy. https://doi.org/10.15405/epsbs.2018.07.02.32