Abstract
Cultural ecosystem services (CES) research are growing exponentially. Apparently, there is a need to consider spatial assessment for recreation provision service at the village scale, especially in southeast region of Asia. Mapping recreational CES is important in landscape planning and management, for identifying and designing recreation hotspots. The study areas were located at Muar district. The methodological design was divided into six steps. Firstly, the criteria were elicited based on recreational CES literature followed by determining its proxy-criteria. Next, constructing the ranking schemata, defining, and classifying each criterion into three ranks. Later, Geographic Information Systems ver. 10 (ArcGIS) was used to develop the criteria maps. Subsequently, questionnaires were distributed to experts to quantify the relative priorities of each criterion. Next, the relative priorities were rated using Analytic Hierarchy Process (AHP) through Expert Choice ver. 11.5 (EC). Lastly, each criterion map was combined through raster calculator function in ArcGIS to develop the CES recreational provision maps. The result suggested that the recreation provision of Bandar Maharani, Sungai Terap, and Ayer Hitam are considered mediocre due to abundant of low-level recreation provision. Nevertheless, the recreation provision of the urban area is slightly better than the suburb and rural areas mainly due to usability and accessibility. In conclusion, low and moderate recreation provision areas need to be functionally improved to promote ecotourism and leisure activities.

Keywords: Cultural ecosystem servicesrecreation provisionspatial analysisAnalytic Hierarchy ProcessGeographic Information Systems
Introduction
One of the benefits afforded by the ecosystems is recreation and ecotourism activities that co-generated through the interaction of humans and the environment (Casado-Arzuaga et al., 2013). Recreation and ecotourism can be defined as recreational pleasure people derived from the natural or cultivated landscapes in an area (MEA, 2005; Nahuelhual et al., 2013). Recreation and tourism is an important type of cultural ecosystem service (CES) that need to be mapped, as it is important in land use planning, designing recreation hotspots, and reallocation of resources for new recreation and ecotourism activities (Nahuelhual et al., 2013). Grêt-Regamey et al. (2014) have proposed a tiered approach to map the recreational CES. Each tier has its own criteria that needed to be considered, but it can basically group into four major aspects- land use, usability and accessibility, landscape aesthetic, and non-managerial parameters such as weather condition and land form. One should note that which criteria are selected to assess recreational CES, are strongly depended on the goal of the assessment and the situation of the site. Nevertheless, Crossman et al. (2013) suggest that the accessibility and land use/ land cover (LULC) are important indicators in assessing recreational CES. In fact, most of the recreational CES research, LULC is the most commonly used criterion to evaluate naturalness, diversity of vegetation and scenic beauty (see Bunruamkaew & Murayama, 2011; Casado-Arzuaga et al., 2013; de Vries, Lankhorst, & Buijs, 2007).
On the other hand, accessibility also may influence people to visit the site, hence affecting the opportunities for recreation. For instance, Koppen, Sang, and Tveit (2014) posit that internal physical accessibility (i.e. topography, vegetation structure and infrastructure) and external physical accessibilities (i.e. distance and proximity) and social- cultural accessibility (i.e. gender, age, mobility, and preference) are among the indicators influence recreation provision services. In addition, features (e.g., facilities and amenities), accessibility (travel distance), aesthetic (e.g., greenery, cleanliness, and smell), and safety (e.g., traffic, lighting, undesirable users, poor maintenance, and surveillance) are also important factors that influence the usability of the recreational area (McCormack et al., 2010).
Another factor that influences opportunities for recreation is landscape aesthetic. Some researchers (e.g. Burkhard et al., 2012; Nahuelhual et al., 2013) considered them as part of the recreational CES while other (Casado-Arzuaga et al., 2013) suggested assessing recreation provision services and aesthetic quality separately. In this paper, we considered aesthetic quality as part of recreation provision services. The reason is, when people interacting with nature, they receive pleasure by enjoying the scenic beauty (TEEB, 2010). In other words, the scenic beauty of landscape may affect the preference of a people to engage with it. For example, if people perceive the visual of the site is poorly maintained, ugly, and unhygienic, they will avoid going there. In addition, topography (elevation and slope) has also been suggested by Chhetri and Arrowsmith (2008) as one of the important factors in evaluating recreation potential.
Problem Statement
The number of studies on ecosystem services are growing rapidly in various regions. However, majority of the previous studies were focused on North America, South America, and Europe. While, little studies have been conducted in Asia, particularly in the southeast regions (see Seppelt et al., 2011, p. 631). This may contribute to the lack of awareness on the importance of ES toward human wellbeing in southeast Asia region. Today, one of the most commonly used tools to estimate ES is through mapping. Mapping of ES is important in land use planning, management, and decision-making (Malinga et al., 2015). It is also useful to stakeholder in decision-making process. In the studies of mapping of ES, regulating and provisioning services are the most commonly being studied and mapped, whereas cultural and supporting services are still lack of attention (Crossman et al., 2013). In addition, many recreational CES studies are focused on municipality scale in which much smaller scale such as village or farm scale is seldom being explored (see Malinga et al., 2015, p. 61). This is also being highlighted by Yeo et al. (2017) in the mapping of LULC, small-sized resources such as small green space, playground, and square are relatively difficult to show and to illustrate in large mapping scale.
Research Questions
The research question was formulated based on the assumption that urban area provided the lowest recreational provision opportunity as compared to suburb and rural areas since urban area has limited spaces. The research questions are: (i) what factors determine the recreation provision opportunity in urban, suburb and rural areas? (ii) Is urban area afforded the lowest recreational provision opportunity as compared to suburb and rural areas?
Purpose of the Study
The purpose of the study was to explore and map the recreational CES in a small town at spatially explicit scale and compare their differences in urban, suburb and rural areas.
Findings
At Bandar Maharani (Figure 07 D), 57.9 % and 35% of the areas were classified as ranks 1 and 2. While, a small amount, 1.3% and 0.3% of the areas were classified as ranks 4 and 5, respectively. The remaining 5.5% of the areas were classified as rank 3. Sungai Terap (Figure 07 E) also had the highest values of rank 1 and 2, which were 53% and 45.5%. Only 1.5% of the areas were categorized as rank 3. The overall recreation provision of Sungai Terap was slightly worse than Bandar Maharani due to the absent of ranks 4 and 5. Ayer Hitam (Figure 07 F) exhibited the same results with Sungai Terap in which only had three ranks, with majority fell under ranks 1 (48%) and 2 (50.7 %) and a small amount fell under rank 3 (1.3%). The recreation provision at Bandar Maharani, Sungai Terap, and Ayer Hitam were considered mediocre due to most of the recreational CES were rank 1 (Figure 08 ).
For urban area, ranks 1 and 2 areas included wild grass-covered areas, fragmented lowland forest and abandoned agricultural lands. In term of the naturalness of the landscape, these areas were considered acceptable for passive recreational activities such as sightseeing for birds. However, the usability of the space was relatively poor, particularly lack of facilities and poor maintenance were the most dominant factors that contributed to low usability. On the other hand, ranks 4 and 5 areas were classified as high recreation provision mainly due to the maintenance of the landscape was good, and the place was clean and attractive. Besides, these areas also provided with numerous facilities, for example, running track, football field, and car park areas. In fact, we could see quite numbers of people were playing football and jogging along the road during our field visit. The finding is evidently parallel with Kaczynski and Henderson (2007) in which facilities (i.e. leisure services, parks, and recreation settings) can encourage people to become physically more active. The rank 3 areas were mostly grass- covered areas that provided moderately recreation provision. These areas mostly were opened lawn, the usability at these areas were also limited. However, the maintenance was still considered acceptable since the grasses were well trimmed, clean, and attractive. Thus, it still allowing for activities such as playing soccer, kite, and any other recreation related activities that suitable at opened lawn. This finding is slightly contradicting with Norton et al. (2012) suggestion in which grassland provided low recreational activities. In this case, we suggest that a proper and well-maintained grass covered areas indeed can support physical activities as compared to wild grassland with excessive growth of cogon and fescue grasses.
For suburb area, the classification of ranks 1 and 2 areas mostly were agricultural lands. These agricultural lands include durian, rubber and oil palm estates and orchards with a mixed planting of edible plants. Apparently, these areas had no facilities for recreational uses and the accessibility was disconnected. Since these areas were designated for cropping purposes, it was comprehendible the usability was low. In addition, poor accessibility also contributing to the difficulty of the people to reach and visit these areas. Generally, these findings are closely associated with Nahuelhual et al. (2013) positions in term of tourism use aptitude in which agricultural land provided very limited (low) recreational activities. In term of naturalness, river has the potential to provide various recreational and leisure activities including trekking, climbing, kayaking, and bird watching (Nahuelhual et al., 2013; Norton et al., 2012). Surprisingly, the results shown in Figure 8 E suggested otherwise. If considering the river itself, it provides various leisure activities. However, considering on single aspect is insufficient, factors such as travel distance, facilities, and visual landscape aesthetic also play an important role in recreation provision as well. Apparently, the river at Sungai Terap was not developed as a recreational hotspot since the usability was poor. In addition, there were no proper facilities provided at all. Not to mentioned that it was difficult to access to the river due to poor circulation. In term of landscape aesthetic, these areas also ranked as poor condition due to the wilderness of the surrounding vegetation. In sum, the finding suggests the naturalness of the river is high, but the lack of facilities, poor accessibilities, and bad visual landscape have contributed to the low recreation provision opportunities. The remaining 1.5% of the areas (rank 3) were located near the main roads, namely, Jalan Jeram. These areas were slightly better than other areas because it was accessible, and the landscape aesthetics was high.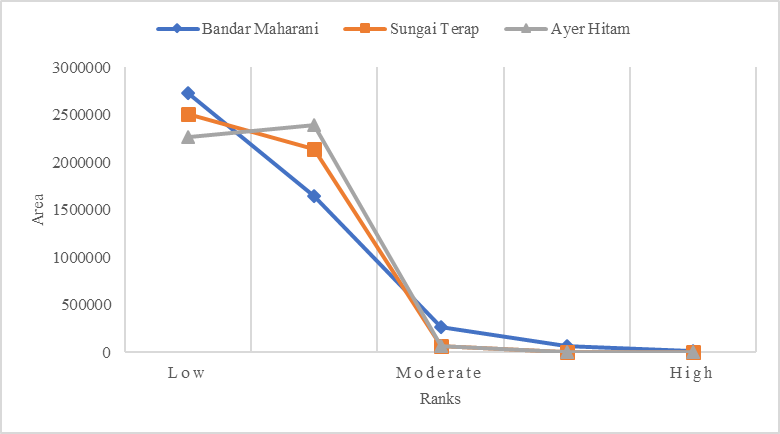 Ayer Hitam as the rural area has many barren lands, agricultural plantation and reserved forest that classified as rank 1 (48%). The highest percentage was rank 2 (50.7%), and it was grass- covered area. These areas were being classified as ranks 1 and 2 due to the lack of facilities, poor maintenance of the spaces, and poor accessibility, despite the naturalness of the place was considerably high. For example, forested areas could provide various recreational activities such as jungle trekking and rock climbing. Nonetheless, without proper facilities provided, for example, trekking path and signage. It is difficult for people to safely explore it. In this perspective, we disagree with Norton et al. (2012) that woodland or trees covered area provided high leisure activities if the usability is poor. On the other hand, we agree with Kaczynski and Henderson (2007) that facilities play an important role in determining the recreation provision opportunity. Figure 07 F shows most of the grass covered areas were classified as rank 2 while partially were classified as rank 3 (1.3%). There were also grass- covered areas classified as rank 3 due to the distance travel from home to the place was neared and closed to the roads.
In sum, the recreation provision of the urban area is slightly better than the suburb and rural areas mainly due to usability of the space and accessibility to the site. However, this does not mean suburb and rural areas should be neglected. In fact, with a proper planning and designing of these areas, improving the facilities and infrastructures, there can provide various recreational activities. For instance, transforming the existing green spaces into playground, park, square or plaza, and converting the existing agricultural land to integrated farming for agrotourism. Considering the condition of the agricultural lands and green spaces, management and maintenance of these resources also need to be regulated by a proper guideline or policy to make sure that these resources are safeguarded and not in deserted condition.
Conclusion
This paper presents an innovative way of combining AHP with ArcGIS to produce the CES recreation provision maps to support decision-making and land use planning. With this integrated mapping approach, it was possible to differentiate which areas delivered the highest recreational CES and which areas delivered the lowest. This approach is considered relatively new, and seldom being used in the mapping of CES. In fact, we can distinguish the priorities of each criterion with the used of AHP, which is crucial in determining the recreation provision. However, the shortcomings inherent in this approach is the subjectivity of assigning preference values. In this study, we only based on the opinions from 19 practitioners. To improve the credibility of the findings, future research can consider from the perspectives of public users and government sectors as well.
In the study of mapping recreational CES, the municipal or local scale is the most commonly mapped. In this study, we have demonstrated that mapping in a spatial explicit village scale is important to present the result in a fine resolution, which is useful in landscape planning, management, and decision-making. Besides, comparing three different sites also providing us the reasoning insight to show the difference between urban and rural landscapes that influence the recreation provision. In this paper, the results demonstrated that indeed urban area provides more recreational opportunities as compared to suburb and rural areas. Of course, we cannot generalize that it is the same across all the other region due to different types of landscape pattern and condition. Hence, it is recommended that future research should seek to explore other places as well, particularly in developing countries within southeast Asia region.
Acknowledgments
We would like to thank the Ministry of Higher Education Malaysia for providing financial support in this research project under Fundamental Research Grant Scheme (R.J130000.7810.4F748)
About this article
Publication Date
01 May 2018
Article Doi
eBook ISBN
978-1-80296-039-6
Edition Number
1st Edition
Subjects
Business, innovation, sustainability, environment, green business, environmental issues
Cite this article as:
Yeo, L. B., & Said, I. (2018). Mapping Recreational Ecosystem Service At Sub-Districts Of Muar. In M. Imran Qureshi (Ed.), Technology & Society: A Multidisciplinary Pathway for Sustainable Development, vol 40. European Proceedings of Social and Behavioural Sciences (pp. 843-857). Future Academy. https://doi.org/10.15405/epsbs.2018.05.69