Abstract
Tragically, millions of children all over the globe have become orphaned for many reasons for example famine, displacement, disease or poverty. With a desire to take care of the orphans left behind, this study aims to focus on the social well-being of orphans. This study hopes to produce a Comprehensive Social Well-Being Index of orphans as the final output that can be used on samples from an orphan population. This framework is based on the previous research that focus on socio-economic, psycho-social, interpersonal relationship, environment and education. It is important to ensure that the Comprehensive Social Well-Being Index of orphans is could help review orphan's status in order to preserve social justice, particularly among children. Furthermore, this index will support the Malaysian government's aims to enhance social capital, inclusivity and social cohesion as part of its effort in the 12th Malaysia Plan and to support new initiative on National Children's Well-being Roadmap.

Keywords: Well-beingorphansorphanagesPahangMalaysia
Introduction
United Nation's Children's Fund (UNICEF) and its global partners defined an orphan as a child under 18 years of age who has lost one or both parents to any cause of death. Govender et al. (2014) and Cheng (2003) revealed that there are two type of orphans either (i) actual orphans in which children that both of their parents have passed away or have been missing for more than 4 years, and (ii) form orphans who refer to the children whose parents are still alive, but they are not stayed with their parents due to poverty, abandonment or imprisonment.
Based on available report by UNICEF (2016), in year 2014, there were nearly 140 million orphans globally including Asia (61 million), Africa (52 million), Latin America and Caribbean (10 million) and Eastern Europe and Central Asia (7.3 million). UNICEF reported an increase in the number of orphans, particularly in South and Southeast Asia which recorded the largest number of orphans (more than 82 million) for year 2016. Until now, this group always get the attention from global, national, and local leaders in finding the best care solutions (Mohammadzadeh, Awang, Ismail, et al., 2018). Cantwell and Holzscheiter (2008) claimed that Article 20 of the CRC (UN General Assembly, 1989) states that the government is obliged to ensure alternative care for a child come into effect when it is fundamentally impossible for child to be fend for themselves after they lose their parents.
In Malaysia context, in Ministry of Women, Family and Community Development's Strategic Plan 2013-2017, one of strategic thrusts is to ensure the safety and well-being of children towards the formation glorious country (Ministry of Women, Family and Community Development, 2016). This strategic plan basically support government aims as embodied in the Government Transformation Program, Program Economic Transformation and 11th Malaysia Plan. The aims are to develop future generations, the well-being of the people and increase the inclusiveness to strengthen the nation's economic based. Besides, recently, based on 12th Malaysia Plan, the concept of shared prosperity was introduced in which cover three development dimensions include social re-engineering (Thestar, 2019). Under social re-engineering dimension, the government aims to enhance social capital, inclusivity and social cohesion which also affected to the orphans. Bernama (2018b) also revealed that Malaysia government in process of formulating and drafting National Children's Well-being Roadmap which might benefited to orphans.
Problem Statement
In this light, the countries with the highest rates of orphans are among the economically deprived and most under-resourced (Thielman et al., 2012). These countries are poorly equipped to meet the social, educational, and health care needs of orphans, which include adequate shelter, education, nutritional and psychosocial support. Sameena et al. (2016) also revealed that children living in orphanages are one of the most vulnerable groups of children in a society since many of them live in a state of repeated neglect, abuse and fear. This situation will lead to numerous negative effects to the orphans, for example, traumatic grief, compromised cognitive and emotional development and denied access to education (Whetten et al., 2009).
In the Malaysian context, the orphans have received great attention from government, Non-Governmental Organisations (NGOs) and private agencies, where they are provided with certain assistance and training (Mohammadzadeh, Awang, Ismail, et al., 2018). However, compared to other groups, for example, disabled people and single mother, assistance for orphans in Malaysia, in general, is still lacking. For instance, the National Budget 2018 has put more focus on People with Disabilities (PWDs) by announcing an increase in the allowance for working and unemployed PWDs, as well as caretakers of PWDs by RM50 per month with an allocation of RM100 million. Meanwhile, according to Bernama (2018a), there are still many orphanages that have received less donation, which effect their economic situation. This may be due to the limited budget allocation for the welfare of orphans, poor and neglected children and the increase in the number of permanent and temporary orphanages. Orphanages have provided a home where infants are brought up to serve as alternative actors in welfare, development and to eradicate the failure role of the state in child protection. However, for National Budget 2019 there is no specific allocation for orphans. Besides, Bernama (2018a) revealed that RM287 million from 1989 to 2018 was spend on children's well-being programmes but the results were less than satisfactory in which there are a problem on nutrition, housing and education, especially involving orphans. Moreover, there are many unregistered institutions in Malaysia and the number of orphans and adolescents living in institutions is unclear.
According to NGOs that responsible to find homes for abandoned orphans, at least 13,000 orphans are living in almost 90 private and 35 government-run registered institutions throughout Malaysia (Mohammadzadeh, Awang, Shahar, et al., 2018). Nevertheless, orphans are highly under privileged in terms of education, socialisation, and access to nutrition than non-orphans. Therefore, a high understanding of these issues is needed in order to address care for the orphans. Furthermore, in 2016, only 1,348 orphans received the financial assistance under Jabatan Kebajikan Masyarakat (JKM) compared to 2014 where there were 2,112 recipients. This denies the need of orphans to live in the environments that promote their well-being.
The research on social well-being index that focus on orphans in Malaysian orphanages had been very rare. The current research of orphanages is often limited to the orphanages' financial record (Ishak, 2012), emotional health and self-esteem (Mohammadzadeh, Awang, Shahar, et al., 2018), stress and coping mechanisms (Mohammadzadeh, Awang, Shahar, et al., 2018), body image perception (Rahim et al., 2019) and interpersonal and intrapersonal (Azid & Yaacob, 2016). To the best of the researchers' knowledge, there are no research that revealed on the comprehensive social well-being index for orphans. Due to the limited literature in recent well-being of orphans in Malaysian orphanages, there is a need to have comprehensive research in this area which focusing on socio-economic, psycho-social, interpersonal relationship, environment and education.
Research Questions
The research questions for this study are as follows:
How is the social well-being of orphans in Malaysia?

What are the indicators that explain Comprehensive Orphans' Social Well-Being index in Malaysia?
Purpose of the Study
The purpose of this study can be outlined as follows:
To discuss the social well-being of orphans in Malaysia.

To explore the indicators that explain Comprehensive Orphans' Social Well-Being index in Malaysia?
Research Methods
The proposed comprehensive social wellbeing index of orphans was based on literature of orphans worldview and focused in the identity of orphans in Malaysia. The five indicators were found to be consistently used in measuring well-being. The framework build in this study synthesizes the extensive body of research across numerous fields in order to identify and measure the multifaceted construct of well-being especially for orphans. Therefore, the proposed comprehensive social well-being index of orphans in Malaysia is shown in Figure 01 .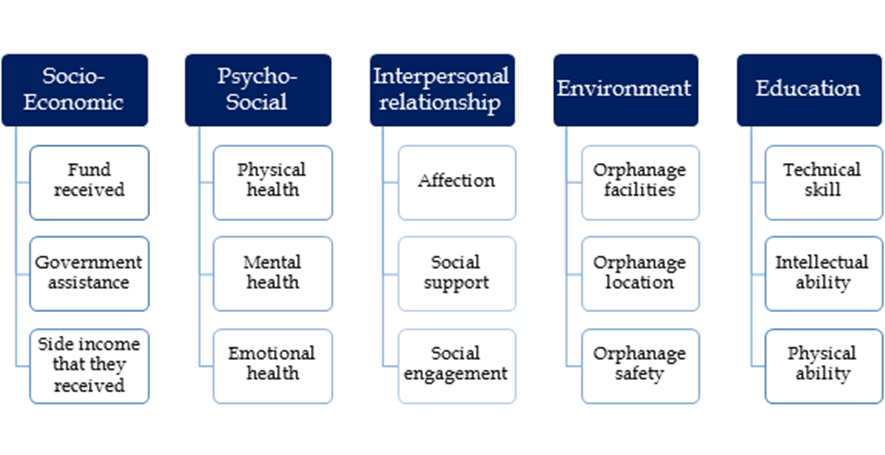 Findings
Social Well-being Index
There are many versions of the social well-being scale or index that have been developed worldwide over the years for example financial (Cuthill, 2002), mental and emotional health, (Wan Salwina et al., 2014), physical health (Emmanuel & Maheswari, 2016), environmental (Shukla & Shukla, 2011) as well as education (Msoka & Holroyd, 2018). However, for Malaysia, there are very limited number of study and references that investigates on the whole social well-being of orphans which only focus more on psycho-social. Therefore, this study will propose and develop the social well-being of orphans to be used specifically in Malaysia based on the following indicators.
Conclusion
The primary outcome of this study is to propose the first Comprehensive Social Well-Being Index for orphans to live in the environments that promote their well-being. This index can be chart and track periodically in order to enable the government to keep in touch with the orphan's condition in the country. This index can be used by policy makers to track and initiate intervention strategies especially in the development of the orphans in many aspects. Besides, as at today, there is very limited number of study and references that investigates in this particular field. As a suggestion, future researcher can have an empirical study in this area. Hence, introduce Comprehensive Social Well-Being Index for orphans in this country is important, so that better policy recommendations can be highlighted specifically to support National Children's Well-being Roadmap.
Acknowledgments
This study has been funded by the Yayasan Canselor UNITEN (YCU).
About this article
Publication Date
30 December 2020
Article Doi
eBook ISBN
978-1-80296-099-0
Publisher
European Publisher
Edition Number
1st Edition
Subjects
Multi-disciplinary, accounting, finance, economics, business, management, marketing, entrepreneurship, social studies
Cite this article as:
Yaacob, N. S., Ahmad, N. N., & Kamalluarifin, F. S. W. (2020). Developing The Comprehensive Social Well-Being Index For Orphans In Malaysian Orphanages. In N. S. Othman, A. H. B. Jaaffar, N. H. B. Harun, S. B. Buniamin, N. E. A. B. Mohamad, I. B. M. Ali, N. H. B. A. Razali, & S. L. B. M. Hashim (Eds.), Driving Sustainability through Business-Technology Synergy, vol 100. European Proceedings of Social and Behavioural Sciences (pp. 396-405). European Publisher. https://doi.org/10.15405/epsbs.2020.12.05.42