Abstract
The article proposes organisation factor, work engagement, and self-efficacy measures for enhancing employees' job performance. In today's environmental setting, all organisations aim to achieve organisational success and sustainability. Because employees' job performance, in the aggregate, results in greater organisational performance, the need to enhance job performance has emerged as a growing concern amongst researchers and practitioners. Supportive organisation factor has been advocated as having the ability to set the tone for a favourable employee-employer relationship. Meanwhile, work engagement is a newly emerged concept that focuses on optimal functioning and positive experiences at work, with moderating self-efficacy. This paper aims to contribute to the growing body of strategic direction practitioners by informing the means to improve work engagement and job performance for organisational success through organisation factor, particularly by looking into training and development and compensation system with a moderating self-efficacy variable. Review of the literature has shed some evidence that can be interrelated from overall business perspective. The key findings emerging from this study show that the organisation factor appears to be the key variable when addressing the issue of job performance. In recent studies, the links between organisation factor and work engagement and job performance have become closer and intertwined. These links have prompted the adoption of more focused strategies to enhance job performance. The paper provides strategic and practical insights that can suggest some factors that can enhance job performance and explore the relationship between organisation factor and work engagement with moderating self-efficacy, which indirectly enhances job performance.

Keywords: Organisation Factortraining and developmentcompensation systemwork engagementjob performanceself-efficacy
Introduction
Rapid changes in the business environment of today have forced companies to strategically manage their operations by operating at the lowest possible cost. Many businesses concentrated on the reliability of their goods or service delivery to meet the expectations of customers in order to achieve better resource utilization. By becoming more technologically advanced, going up-market to manufacture more value-added goods and improving the skills of their workforce, many manufacturing companies have faced the global forces of globalization. When global competition intensifies, manufacturing companies must have greater knowledge of how to conduct business with their suppliers and consumers. We need to concentrate on processes that have important effects on their business performance and product quality.
Malaysia's manufacturing sector is one of the leading industries contributing to the country's economy's growth, particularly in terms of export manufacturing, jobs and investment (Brandt & Chuah, 2012; Bormann et al., 2010; MIDA, 2012, 2016). The manufacturing sector is Malaysian economy's second-highest key contributor in 2016 and 2017. Malaysia's economy grew at a rate of 4.2 percent for 2016, with a constant value of RM1107.9 billion and current prices of RM1229.4 billion for 2017 (Department of Statistics Malaysia, 2008). The manufacturing sector recorded a total investment of RM63.7 billion as stated in the MIDA report, representing an increase of 8.9 percent from the RM58.5 billion invested in 2016.
An organization's success is always dependent on its high-performing staff. Employees play a major role in the implementation of their top managers ' business strategies. An entity will face difficulties in carrying out its tasks without workers. Nonetheless, some entities are faced with the performance issue of employees. Job performance tests a person against his or her target, concentrating on whether the results suit the goal anticipated (Nguyen & Ryan 2008). According to Chaudhary et al. (2012), job performance is how an employee uses time, strategies and interactions with others to perform his or her tasks. Kittredge (2010) indicates that job performance reflects an individual or group's quantity and quality of work and whether the task has been successfully accomplished.
Job performance is one of the organizational performance and human resource management issues that is most concerned. Because the performance of workers is crucial to organizational sustainability and growth, it has become one of research's most widely studied outcome variables. The concentration of manufacturing organizations was on product design and creativity. And, depending on the type of organization, the relative importance of these variables. Manufacturers have focused primarily on product innovation's benefit and efficiency. The performance of R&D engineers thus plays an important role in the manufacturing sector's product design and innovation. A study of the existing literature reveals the following two common organizational factor predictors: (i) training and development and (ii) compensation system. These two factors will be discussed further in the following subsection
Problem Statement
Engineers have an imaginative potential, but this ability can never be realized without proper organizational substance. In a global economy, due to increased competition and rapid development of new technologies, a competitive advantage will decline rapidly Ghani et al. (2013). As mentioned in Y's written article. Bhg. One of the main challenges facing today's E&E manufacturing is the shortage of experienced engineers, Dato ' Wong Siew Hai, Chair of Malaysian American Electronics Industry (MAEI) 2013. Nevertheless, there is still limited research on the job performance of R&D engineers in Malaysia's manufacturing sector, especially studies focusing on organizational factors such as the aspect of training and development and compensation systems. The present study therefore proposes to examine how factors affect the work performance of R&D engineers in Malaysia's manufacturing sector.
The need to develop innovative products or services has become more intense in the digital transformation age, particularly in the E&E industry, where efficiency and productivity in manufacturing is highly desirable. Since engineers form an organization's backbone in the E&E industry, their output would have a major impact on the existence and success of the organization. Manufacturing was the second highest key contributor to the Malaysian economy in the fourth quarter of 2017 (Department of Statistics Malaysia, 2008). According to the Malaysian External Trade Development Corporation (Malaysia External Trade Development Corporation, 2018), production accounted for 82.1 percent of Malaysia's total exports in 2017. Although Malaysia's manufacturing sector is one of the key contributors to its economy, the country's manufacturing ranking compared to the country's economy is still far behind the country's manufacturing ranking compared to other countries.
Based on the rankings of the global Purchasing Manager Index (PMI), Europe, especially Germany, dominated the manufacturing sector as of May 2018, followed by Austria, the Netherlands and the UK (Global PMI, 2018). Of the 29 countries covered by the May 2018 PMI survey, four countries, one of which is Malaysia, experienced a deterioration in manufacturing conditions. The PMI index of the country fell below 50.0, implying a fall in productivity of manufacturing compared to other countries. This indicates that Malaysia's manufacturing sector efficiency is still lagging (see Figure 2 ). This deficit can be attributed to the decrease in productivity in manufacturing. One way to address this deficiency would be through job performance improvements, particularly those of the Malaysian manufacturing industry's R&D engineers.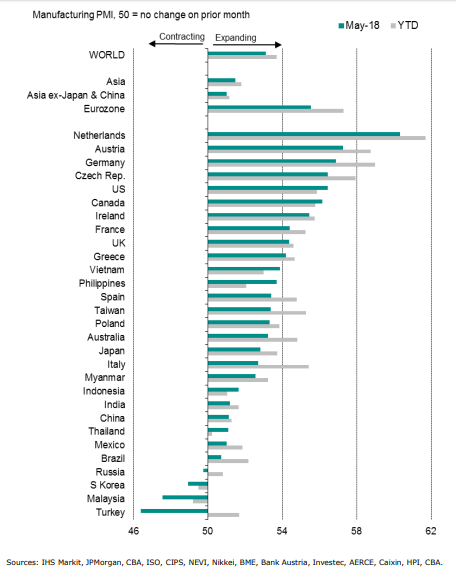 In view of the above, the Malaysian manufacturing sector urgently needs to re-energize itself and become productive and advanced. This can be done by looking at things such as training and development and compensation in the company. It has also been widely acknowledged that the use of a positive organizational element will lead to improvements in the attitudes and behaviors of employees. Work performance and job commitment are one type of work activity.
Research Questions
Do organizational factors such as the dimensions of (training and development and compensation system) connect job performance to work engagement and self-efficacy moderation?
Purpose of the Study
Based on the above discussion, the aim of this paper is to propose a model that links selected dimensions of the organizational factor (training and development and compensation system) with mediating work engagement to improve job performance by moderating self-efficacy.
Research Methods
A systematic review of the literature was conducted using an archival approach to achieve the specified objectives and address the research questions. This study was focused on a strong theoretical framework incorporating primary and secondary data. The research used a technique to review the articles cited in a database such as Emerald, ProQuest and Science Direct, particularly with moderating self-efficacy on the current topics in organizational factors (training and development and compensation system), work engagement and job performance. Secondary data were also checked as a basis for this study in order to build a solid theoretical framework.
Findings
As discussed in the literature review, this study suggests an integrated structure (Figure 1 .1), highlighting the organisational factors (training and growth and compensation) as the independent variables, and job performance as the dependent variable with mediating work engagement Self-efficacy, however, serves as the moderator.
Conclusion
A key source of competitive advantage for a company is highly motivated and high-performing employees. Considering the extreme challenges facing the manufacturing sector globally and more so in Malaysia, Malaysian manufacturing companies desperately need to pay close attention to how to motivate their workers to become highly engaged high-performers. In this regard, manufacturing companies need to pay attention to their organizational factor (training and development and compensation system) as such activities will create a friendly working environment that will bring out the best of positive attitudes and behaviors to their employees. Ultimately, this paper addresses the value of working and the fact that job performance can help workers, particularly manufacturing R&D engineers, become highly involved in their jobs, which in turn leads to higher job performance.
About this article
Publication Date
06 October 2020
Article Doi
eBook ISBN
978-1-80296-087-7
Publisher
European Publisher
Edition Number
1st Edition
Subjects
Finance, business, innovation, entrepreneurship, sustainability, environment, green business, environmental issues
Cite this article as:
Somu, H., Mohd Nasurdin, A., & Ling, T. C. (2020). A Model Linking Organisation Factor, Work Engagement, And Self-Efficacy To Job Performance. In Z. Ahmad (Ed.), Progressing Beyond and Better: Leading Businesses for a Sustainable Future, vol 88. European Proceedings of Social and Behavioural Sciences (pp. 903-914). European Publisher. https://doi.org/10.15405/epsbs.2020.10.82