Abstract
This conceptual paper attempts to study factors that drive contributors' intention to make a donation using the crowdfunding platform. This research attempts to tackle the issue pertaining to the decreasing funds collected and low participation among contributors in crowdfunding projects both locally and globally. This study reviews the literature on online relationship marketing and psychological perspectives. The factors involved in this study are gamification, utilitarian features, hedonic features and trust in the platform. Also, this paper reviews the mediating role of trust between gamification and contributors' intention. The factors outlined are analysed using The Stimulus – Organism – Response model by Mehrabian and Russel. The model is appropriate for this inquiry because the S-O-R as a way of explaining a mechanism that transmits inputs that trigger human cognitive and affective responses, leading to behavioral effects. However, this study does not provide any empirical findings which marks the limitation of the research.

Keywords: Crowdfundinggamificationtrust
Introduction
Crowdfunding is not a new phenomenon, however the use of platform is the recent method in obtaining funds ( Martínez-Climent et al., 2018). Crowdfunding derived from the traditional concept of fundraising however by utilizing the acceleration of the Internet and Web 2.0, it marks the huge different between traditional fundraising and crowdfunding. It is the initiative of people around the world who connected via special platform on the internet to share their similar ideas and optimist to realize the project. The platform allows investors and user of the funds to facilitate contact and organising a project or campaign ( Galuszka & Brzozowska, 2017).
Raising funds through crowdfunding platform is unique and has bigger impact compared to traditional fundraising activities. First, the mechanism of crowdfunding will combat fake fundraising and promoting transparency by providing the progress bar of the total collected funds in order for contributors to make informed decision ( Mejia et al., 2019). Second, all projects raised via crowdfunding platform will be featured on the platform then will encourage proactive contributors' behaviour since they can easily access and choose any available projects they would like to participate ( Lam & Law, 2016).
In addition, the scope community-based crowdfunding is broader than the conventional fundraising campaign ( Ryu & Kim, 2016) because the ability to covers various projects at the individual level (e.g. funds for education), organizational level (e.g. initial capital for pre-startup business and funding research grants for academician) or to sustain community well-being (e.g. civic crowdfunding efforts to build public park). Malaysia has put a lot of effort to flourish this industry by introducing local based crowdfunding platforms such as SkolaFund, PitchIN and Mystartr to assist the underserved community.
Furthermore, Charity Aid Foundation listed Malaysia in number 10 among 145 countries in the world as the most generous country in term of contributes financially and physically ( Charity Aid Foundation, 2015). In terms of technology, Global Findex Database ( 2017) reported that among 31.9 million Malaysian, 85.7% of the population has access to the Internet while 85.1% experienced performing online banking transaction. With such behavior and facilities, there are huge potential and opportunities for crowdfunding to exercise its actual role to be an assistant to the government as well as government related agencies such as MARA, Zakat and Waqf Centre in providing financial aid.
Theoretical framework
The Stimulus-Organism-Response (S-O-R) model by Mehrabian and Russell ( 1974) is a conceptual model based on external sensory interrelationships, internal organism processes and organism responses. The S-O-R model suggests that the influence of external stimuli on the actions of individuals is mediated by direct emotional and cognitive states ( Mehrabian & Russell, 1974) In this model the stimuli can be referred to as an external component which persuades the cognitive and emotional condition of an individual, while the organism is an internal reaction mechanism ( Vieira et al., 2018). The response is identified as the organism-determined approach – avoidance behavior. The S-O-R model was therefore developed to describe the mediating function of an organism ( Chiu et al., 2014).
Based on e-commerce perspectives, Peng and Kim ( 2014) used the S-O-R model to determined online shopping behavior. They elaborated that utilitarian and hedonic shopping value as internal stimuli towards the attitude of online shopper (organism) and influence shoppers' purchase intention (response). In addition, Jeon et al. ( 2017) utilize the S-O-R framework to explain the mediating role of online trust between perceived website interactivity and repurchase intention.
In this study, based on the S-O-R model, we argue that gamification, utilitarian and hedonic features positively influence trust in crowdfunding platform. Mehrabian and Russell ( 1974) introduced the S-O-R model as a way of explaining a mechanism as stimulation that transmits to a response through an organism ( Vieira, 2013). In this study, the utilitarian and hedonic features are treated as stimulus, whereas trust in platform is use as the cognitive states and intention to make donation as the responses.
Problem Statement
Despite the growing potential of crowdfunding ( Belleflamme et al., 2015; Clauss et al., 2018; Forbes & Schaefer, 2017; Mariani et al., 2017; Mollick, 2014; Short et al., 2017) unfortunately the success rate of raising fund through crowdfunding is decreasing as well as the number of contributors who wants to participate in crowdfunding projects ( Lukkarinen et al., 2016; Zhang & Chen, 2019). The local crowdfunding industry also face the same challenges as denote by Gustav Liblik, CEO of Catapooolt crowdfunding platform that even though the involvement of contributors in Malaysia crowdfunding environment is growing at a healthy rate but the participation is still low ( Asian Institute of Finance, 2017). In addition, contributors' continuance intention to participate in a crowdfunding project decrease after their first contribution ( Burtch et al., 2013; Choy & Schlagwein, 2016; Kuppuswamy & Bayus, 2018). Therefore, it is crucial to investigate factors that influence contributors' intention to participate in crowdfunding platform.
Previous literatures have been investigated the predictors on intention to use crowdfunding comprising both perspectives of fund seeker ( Davidson & Poor, 2015; Jaziri & Miralam, 2019; Yang & Lee, 2019) and contributors ( Kang et al., 2016; Liu et al., 2018; Rodriguez-Ricardo et al., 2019). However, among all the studies there is a lack understanding in explaining how platform features as factors influencing contributors' intention and seems past researchers has overlooked the role of crowdfunding platform in attracting potential contributors. Whereas, crowdfunding platform is one of the key players in crowdfunding mechanism that bridge fund seeker and contributors ( Haas et al., 2014) and due to the limited information about the project owner and future contributors will seek out to find other mental short cuts to decide the financial contribution to be made ( Yu et al., 2015). As such examining contributors' intention to participate in crowdfunding platform is critical importance for practitioners and researchers to improve the number of individuals to be involve in crowdfunding activities and increase the probability of crowdfunding success ( Bagheri et al., 2019; Kraut & Resnick, 2012).
Previous researchers have investigated platform features such as security, navigability, visual appeal, perceived ease of use, perceived usefulness and convenience of payment in influencing contributors' intention to participate in crowdfunding projects ( Lacan & Desmet, 2017; Liu et al., 2017b). To enrich the existing literature, the current research attempts to examine the features of gamification, utilitarian and hedonic features of the platform in influencing contributors' intention to use crowdfunding platform to make donation.
Utilitarian features and hedonic features are confirmed to drive consumer purchase intention in online shopping environment ( Escobar-Rodríguez & Carvajal-Trujillo, 2013). Therefore, by enhancing utilitarian and hedonic features in crowdfunding platform could influences contributors' intention to proceed with positive behavior. Meanwhile, according to Deterding et al. ( 2011) gamification is the application of game features in the non-game context. The incorporation of the features such as badges, progress bar and achievement chart are to encourage participation on a website ( Hamari et al., 2014; Kim & Ahn, 2017; Thiel & Fröhlich, 2017) and has been applied including e-banking ( Rahi & Abd. Ghani, 2019; Rodrigues et al., 2016), education and learning ( Gené et al., 2014; Morales et al., 2016; Nevin et al., 2014), health ( Barratt, 2017; Spillers & Asimakopoulos, 2014), tourism ( Sigala, 2015; Xu et al., 2016) and recycling activities ( Hsu et al., 2018).
Despite the wide usage of gamification, the study is still limited in crowdfunding context. To the extent of researchers' knowledge, there only a study by Kontogiannidis et al. ( 2017) that examine the direct relationship of gamification and intention. However, the issue of the study is that the author combined the respondent between fund seeker and contributors in which should be measured exclusively since the motivation of these parties to participate in crowdfunding activities are different. Thus, the present study will focus on contributors' perspective and will include individual who are aware of crowdfunding regardless their previous participation and according to Rodriguez-Ricardo, Sicilia, & López ( 2018) that anyone could be a future contributor.
Other than that, the present study will investigate the mediating role of trust in platform between gamification, utilitarian features and hedonic features with contributors' intention to participate in crowdfunding platform. Trust has been a recurrent issue since the emerging of crowdfunding activities due to the fact that the main objectives of crowdfunding is for seeking financial assistance from the crowd which involves various risk and uncertainty ( Gierczak et al., 2016; Haas et al., 2014). The relationship can be explained by Stimulus – Organism – Response model (SOR) by Mehrabian and Russell ( 1974) which mediated by organism which comprises of affective and cognitive states. In explaining trust in online perspectives, user of a website will use cognitive ability to induce their trust towards the information provided to them on the website ( Jeon et al., 2017). Moreover, previous researchers have investigated the mediating role of trust between utilitarian features and hedonic features with intention such as brand trust ( Bennur & Jin, 2017). However, to the extent of research knowledge, there is almost no studies that investigate the relationship between gamification and trust.
From this, this research makes several contributions. First, this study extends the growing body of literature on the factors influencing intention among contributors to participate in crowdfunding project. Second, our study will highly contribute specifically on platform characteristics and its ability to attract participation from potential contributors. Third, this research also contributes to the limited understanding of contributors' perspectives particularly in the context on Malaysia.
Research Questions
The current study attempts to answer the following research question;
Does gamification, utilitarian features, and hedonic features influence trust in platform among contributors of donation crowdfunding?

Does trust in platform mediates the relationship between gamification and contributors' intention to donate using crowdfunding platform?
Purpose of the Study
The main purpose of this study is to investigate the website features that could develop and enhance the intention of potential contributors to make donation via crowdfunding platforms. In order to achieve the main objective, this study aims to investigate the effect of gamification, utilitarian features and hedonic features in influence contributors' intention to participate in crowdfunding platform and also to examine the mediating role of trust in platform.
Research Methods
This conceptual paper employed a library research and reviewing previous literatures pertaining to crowdfunding and the antecedents among contributors to use crowdfunding platform to come out with the hypothesis development. The advance research only limited to crowdfunding and proposed construct involve in this study which are gamification, trust and behavioral intention. The library research consists of online review of published article journal based on online database such as Scopus, Web of Science, Association for Information System eLibrary (AISEL), and Google Scholar. Later, the references were limited to article journal and was written in English. Thus, limitation from this research could be the journal articles published in offline database.
Findings
Liu et al. ( 2000) posits that a website is consider successful when it able to attract users and makes them feel secure while using the website. The quality of the website's design will positively affect the trust of the website. The purpose of utilitarian system embedded in a website is used to encouraging efficiency which in turn influence e-shopping quality ( Ha & Stoel, 2009). Cyr ( 2008) indicates that variables in user interface design are essential predictors for website trust. McKnight et al. ( 2002) also found out that the utilitarian features of the website have a direct impact on trust. Jamshidi et al. ( 2017) also confirmed that utilitarian features are crucial to foster customers' trust in mobile banking applications and will influence their loyalty and continuance intention. Nevertheless, the engine of online shopping is not just functional qualities, because more experienced internet shoppers are also increasingly looking for hedonic interest ( Bridges & Florsheim, 2008) thus, utilitarian and hedonic motivations for consumption are not inherently exclusive to one another ( Batra & Ahtola, 1991). The website environment and how it operates can influence customer's satisfaction and motivation with their online shopping experiences ( Childers et al., 2001; Szymanski & Hise, 2000).
Meanwhile, the relationship between gamification and trust are limited since the incorporation of game elements is to provide fun and enjoyable experience then will portray the activities will become less serious and reduce trust. However, Burtch et al. ( 2013) found that the element of progress bar in crowdfunding platform serves as a signal to inform other contributors that the project is worth being funded. In other way, it increases contributors' trust if they think the project is worth their financial contribution. Thus, we hypothesize that,
H1: Gamification have a positive influence on trust in the platform.
H2: Utilitarian features have a positive influence on trust in the platform.
H3: Hedonic features have a positive influence on trust in the platform.
Trust has been empirically demonstrated to influence commitment ( Chaudhuri & Ligas, 2003; Palmatier et al., 2009; Rocereto & Mosca, 2012; Twing-Kwong et al., 2013) and purchase intention ( Wu et al., 2008). Similarly, trust in the website is believed to influence the intention of online shoppers in their purchasing behavior. Kumar et al. ( 2018) found that whenever the user trusts the website they engaged with, the more likely they intend to disclose information about themselves and interact with other users. In a similar vein, users' intention to adopt extension service from particular shopping platform when they trust the website ( Yang et al., 2015). For example, online shopper's intention increase to use vendor's mobile application when they experienced that the website is trustable. In addition, Suh and Han ( 2003) discovered that trust affects behavioral intent to implement internet banking significantly. Moreover, in pedagogy perspectives, teachers would likely to adopt virtual learning environment in their teaching method when they believe that the system is trustable ( Hew & Kadir, 2016).
Trust is also would be likely a candidate to mediate the relationship between website features and behavioral intention. Trust has been shown to encourage various forms of philanthropic activity, including charitable giving and voluntary work ( Taniguchi & Marshall, 2014), civic engagement ( Warren et al., 2014) and monetary donation ( Beldad et al., 2014). Therefore, trust is considered to be a critical aspect of online transaction activities. For instance, the research found that online transaction by potential buyers was influenced by their trust towards the platform or intermediary ( Chen et al., 2015; Pavlou & Gefen, 2004).
Few studies have found that trust has established a positive connection between website design features and repetitive purchasing. Jeon et al. ( 2017) has demonstrated online trust as a linkage between website interactivity and consumer repurchase intention on travel-related product among American tourist. Apart from that, Shin et al. ( 2013) on online purchasing activities has proved the mediating role of trust between site quality and purchase intention among college students in South Korea. Therefore, we predict the hypothesis as follows and the proposed research framework illustrated in Figure 02 .
H4: Trust in Platform will positively influence intention among contributors to use donation crowdfunding platform.
H5: Trust in Platform mediates the relationship between gamification and the intention of contributors to donate through crowdfunding platform.
H6: Trust in Platform mediates the relationship between utilitarian features and the intention of contributors to donate through crowdfunding platform.
H7: Trust in Platform mediates the relationship between hedonic and the intention of contributors to donate through crowdfunding platform.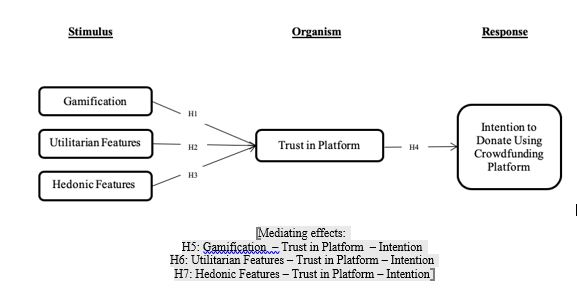 Conclusion
Developing gamified business applications of crowdfunding contexts opens new directions in research on development practices and gaming dynamics to increase the interaction and involvement of contributors. This study will examine the influence of gamification in terms of utilitarian and hedonic features of the platform design towards contributors' trust in the crowdfunding platform and their intention towards using the platform with game features. The result will contribute in many aspects especially the crowdfunding environment itself. Since crowdfunding in Malaysia still at infant stage the findings from this study will provide perspectives from contributors which is still lacking. Among the issue discussed by previous researchers are from legal aspects ( Abdullah, 2016), blockchain implementation ( Hassan & Zainudin, 2015), model development ( Abdullah & Oseni, 2017; Mohd Thas Thaker et al., 2018) and project creators' perspectives ( Mokhtarrudin et al., 2017). Also, this research will contribute to theoretical perspectives by investigating the impact of gamification on platform users' trust.
Acknowledgments
This article is part of a research project supported by Fundamental Research Grant Scheme, grant number: FRGS/1/2018/SS03/UKM/02/8
About this article
Publication Date
06 October 2020
Article Doi
eBook ISBN
978-1-80296-087-7
Publisher
European Publisher
Edition Number
1st Edition
Subjects
Finance, business, innovation, entrepreneurship, sustainability, environment, green business, environmental issues
Cite this article as:
Mohd Anim, N. A. H., & Omar, N. A. (2020). The Impact Of Gamification On Contributors' Trust In Community Based Crowdfunding Context. In Z. Ahmad (Ed.), Progressing Beyond and Better: Leading Businesses for a Sustainable Future, vol 88. European Proceedings of Social and Behavioural Sciences (pp. 362-376). European Publisher. https://doi.org/10.15405/epsbs.2020.10.32