Abstract
In today's society, the speed of change is on the rise, and people need to stay at the forefront of the social and professional challenges. Adaptation is difficult in a world subject to permanent dynamics. Knowledge becomes rapidly obsolete and is not sufficient for effective professional and social integration. Valuing the individual through knowledge has been replaced by competence assessment. The European Parliament and the Council recommended that all EU countries should pursue key competences for pupils during compulsory schooling through the education process, thus ensuring a unitary framework for young people training, with a view to achieving an easy and efficient social and professional inclusion and lifelong learning. Can these competences be valued and valorised by a young person on the labour market? Do they provide stable levers for effective job integration, but also for continuous development? Is the set of key competences sufficiently complex for the current and future society? These are some of the questions the study aims to respond to, presenting the role and importance of key competences in training young people for the labour market, but also the impact on their social and personal development.

Keywords: Key competencesprofessional skillslabour market
Introduction
We live in a society where the speed of change is on the rise, and people need to stay at the forefront of the social and professional challenges. Adapting to the requirements of a society that is in permanent dynamics is difficult.
In order to achieve this goal, through a Recommendation of The European Council, a lifelong learning program was proposed, which would "offer people learning opportunities at all stages of life" (Recommendation of the European Parliament and the Council -2006/962/EC on key competences for lifelong learning, n.d.).
The European Parliament and the Council recommended that all EU countries should pursue key competences for pupils during compulsory schooling through the education process, thus ensuring a unitary framework for young people training, with a view on efficient social and professional inclusion. These competences must also form cornerstones for lifelong learning (Recommendation of the European Parliament and of the Council 18 December 2006 on key competences for lifelong learning, n.d.).
Adult people develop key competences through lifelong learning conducted in a coherent and comprehensive manner.
Literature Review
Key competences - conceptual delimitations
These key competencies represent a prospective vision of education, oriented and adapted to the requirements of modern society. These competences "are a transferable and multifunctional package of competences that need to be developed until the completion of compulsory education" (Bocoș, Răduț-Taciu, Stan, Chiș, & Andronache, 2016, pp. 223) for the person to flexibly adapt to a world in constant state of change.
Key competences have been formulated with the aim of providing a European benchmark for policy makers, education providers, employers and pupils themselves to facilitate national and international efforts to reach the commonly agreed objectives, according to the Recommended of the European Parliament and the Council.
In the Recommendation 2006/962/EC regarding key competences for lifelong learning, eight areas of competence are mentioned. These are illustrated in the following image (Figure 01 ):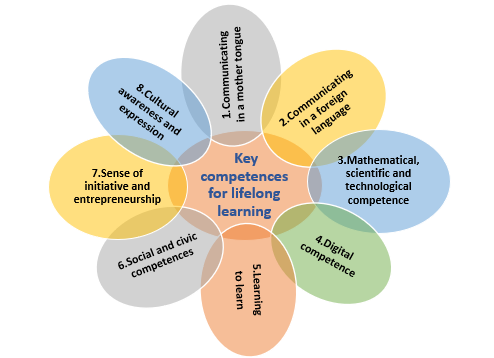 (https://eur-lex.europa.eu/legal-content/RO/TXT/?uri=LEGISSUM%3Ac11090)
Research Method
In order to highlight the role of key competences in the labour market, papers from the literature, studies about labour market needs as well as educational policy documents prepared at the level of the European Union have been reviewed. Information from different areas of the professional activity with the graduate profile has been linked, prefigured from the perspective of key competences.
By analysing the importance of key competences in training point by point, their key role can be ascertained.
Analyses and Findings
In the next 10-15 years, the adoption of automation technologies and artificial intelligence will transform jobs, and people will increasingly interact with ever smarter machinery. According to the same study, these technologies and human-machine interaction will bring many benefits in the form of higher productivity, improved performance and new prosperity, but also the changing of skills required from workers. In the study Skill shift: Automation and the future of the workforce (Bughin et al., 2018) conducted by McKinsey Global Institute it is stated that the need for technological skills has increased since 2002 and will accelerate between 2016 to 2030. It will also increase the need for social and emotional skills on an accelerated basis, instead "the need for (...) physical and manual skills will decrease" (Bughin et al., 2018). Between 2016 and 2030, the demand for social and emotional skills will increase in all industrial sectors by 26% in the United States and 22% in Europe. While some of these skills, such as empathy, are innate, others, such as advanced communication, can be built and refined. The rise in demand for entrepreneurship and initiative will also see the fastest growing in this category, with 33% in the United States and a 32% increase in Europe.
From the data highlighted above, we observe the trends of the skills required on the labour market. Directly or subordinated, all areas of key competences are present. As transversal skills, in varying proportions, key competences can be found in any field of activity. Thus, employers' needs are correlated with the skills that can be proven by any future employee. Without a key competence, a young person will encounter serious problems at the time of professional and social insertion and in building other skills required by the labour market.
Conclusion
In view of the above, it is clear that the role of key competences, especially in the areas of computer skills, science and technology skills, entrepreneurial skills and learning to learn, is extremely important in the basic training of young people to prepare them for professional insertion. These areas of competence provide not only the necessary skills to operate in the IT and technical fields, but also to accumulate and develop knowledge and skills to adapt to multiple changes in this field, with a major impact on all areas of activity.
One of the EU's key competences objectives is formulated as follows: Young people should acquire a "sufficient mastery of key competences at a level enabling them to prepare for adult life and to provide a basis for future training and professional life", as well as for "developing and updating key competences throughout life" (Recommendation 2006/962/EC on Key Competences for Lifelong Learning, n.d.).
About this article
Publication Date
17 June 2020
Article Doi
eBook ISBN
978-1-80296-084-6
Publisher
European Publisher
Edition Number
1st Edition
Subjects
Teacher, teacher training, teaching skills, teaching techniques, special education, children with special needs
Cite this article as:
Meseșan, N., & Albulescu, I. (2020). Role Of Key Competences In Preparing Young People For The Labour Market. In & V. Chis (Ed.), Education, Reflection, Development – ERD 2019, vol 85. European Proceedings of Social and Behavioural Sciences (pp. 677-684). European Publisher. https://doi.org/10.15405/epsbs.2020.06.70