University Students' Readiness For E-Learning: Replacing Or Supplementing Face-To-Face Classroom Learning
Abstract
The main trend that influences much and newly-shapes contemporary education is the development of information technologies. The experience of implementing e-learning technology and on-line education shows that the use of e-learning in higher educational institutions will be soon widespread. To implement successfully e-learning technology in formal educational process, changes in organization should occur. Those who resist changes in educational process are teachers and students. To form correctly the change management strategy concerning e-learning implementation it is necessary to determine students' attitude and readiness. The current research is dedicated to the analysis of students' attitude towards e-learning technology, students' expectations, their readiness to study in electronic educational environment, their readiness to use their own mobile devices for formal education. More than 800 Russian students were surveyed. The information got from preliminary analysis of students' attitude towards e-learning implementation, can be used for smoothing the opposition in relation to changes. If taken into account, these changes can be controlled and the opposition can be effectively negotiated.

Keywords: Blended learninge-learningformal educationHigher educationm-learningnon-formal education
Introduction
The state of the modern world can be characterized as dynamic and rapidly changing. Drastic changes occur in all spheres of life and education is not an exception. The time came long ago for new models and methods of education to meet the requirements of the contemporary world. To do that education needs to be oriented towards future and the trends of world development.
Problems of modern education
According to the general report of the experts of the OECD Centre for Educational Research and Innovation (CERI) such global factors as globalization, population migration and mobility, urbanization, ecological problems, Internet and technology development, virtual reality, and others influence education (OECD, 2016). Actually, these factors cause problems that education currently faces. Here are some of them:
the need to transfer knowledge and skills to make students competitive in the era of globalization;

the need to enhance students' creativity to make them capable of innovations;

the need to implement exchange programmes in order to increase the level of international culture and tolerance;

the need to think green;

the need to bring up individuals capable to live in the information flow.
These problems need to be solved by newly-shaped models of education and appropriate methods of it.
Information technologies in education
Obviously, one of the main trends that influences much and newly-shapes contemporary education is the development of information technologies and telecommunication systems. Eisner (2004) states that we must embody technology into all of our pedagogy to keep up with the modern society A number of researchers mention that technology is steadily present in the classroom (Huffman & Huffman, 2012; Martin, Diaz, Sancristobal, Gil, Castro, & Peire, 2011), it can enhance educational effects (Sung, Chang, & Liu, 2016). It changes the way we think and perceive information, in other words, it changes the methods by which we store, pass and create knowledge. In all branches of knowledge information technologies accomplish ‬two functions: they work as ‬tools and as objects of knowledge. Consequently, novelties represented by information technologies not only provide a revolutionary ‬‬development in different branches of knowledge, but also have a direct impact on the scientific and technological progress in ‬‬all areas of society (Bilyalova, 2017). Indeed, many of the technologies influence the way we teach and learn. For example, mobile devices (smartphones or tablets) engage students in indoor and outdoor activities; social networks and web 2.0 tools give students an opportunity to be more active in their own education, allowing them to become educational "prosumers" that is to say to be both producers and consumers (Martin et al., 2011). ‬‬‬‬‬‬New technologies make it possible to individualize the learning process, which directly affects students' learning motivation giving an opportunity to succeed to every student, causing positive ‬emotions. The roles of a teacher and a student differ as compared to conventional techniques: while using interactive forms in educational process a student becomes the main ‬acting figure and the teacher acts as an active assistant, ‬whose function is to organize and help on educational process (Bilyalova, 2017).‬ ‬‬‬‬‬‬‬‬‬‬‬‬‬‬‬‬‬‬‬‬‬‬‬‬‬‬‬‬‬‬‬‬‬‬‬‬‬‬‬‬‬‬‬‬‬‬‬‬‬‬‬‬‬‬‬‬‬‬‬‬‬‬‬‬‬‬‬‬‬‬‬‬‬‬‬‬‬‬‬‬‬‬‬‬‬‬‬‬‬‬‬‬‬‬‬‬‬‬‬‬‬‬‬‬‬‬‬‬‬‬‬‬‬‬‬‬‬‬‬‬‬‬‬‬‬‬‬‬‬‬‬‬‬‬‬‬‬‬‬‬‬‬‬‬‬‬‬‬‬‬‬‬‬‬‬‬‬‬‬‬‬‬‬‬‬‬‬‬‬‬‬‬‬‬‬‬‬‬‬‬
Problem Statement
In order to get the maximum effect of information technology in education it is necessary to overcome a number of problems. There is a need to develop an organization change management strategy, to use efficacious methods of overcoming resistance to changes from the part of teachers as well as from the part of students. Teachers being so-called digital immigrants feel confused and insecure in the situation of e-learning technology implementation. Students being so-called digital natives still do not have significant experience in formal education in electronic educational environment, on public platforms MOOC, in targeted use of private mobile devices in education, etc. To develop effective change management strategy in e-leaning implementation into educational process, firstly, it is necessary to study attitude of the key actors of educational process towards that implementing technology, to analyze educational needs, personal needs, objective and subjective characteristics.
Obviously, to implement successfully e-learning technology in formal educational process, changes in organization should occur. Traditionally, more than half of implemented organizational changes fail, and the main reason is human factor because it is more difficult to change mind and behavior of employees than technology, equipment or organizational structure (Mkrtychyan & Vojlokova, 2013). And the resistance to changes is one of the main problems of developing organization. Those who resist changes in educational process are teachers and students. Higher institutions are rather conservative organizations from the point of view of flexibility of organizational structures as well as organizational behavior which can be characterized as cautious, sometimes hostile on the part of teachers towards implementation of modern methods and technologies enhancing educational process. The main reasons of resistance to changes are the lack of knowledge in the extent of changes, uncertainty in the results of changes, fear of innovation, fear of unknown, fear of the competency lack. Realizing e-learning technologies students become active agents of educational process which means the change in traditional roles. To form correctly the change management strategy concerning e-learning implementation it is necessary to determine students' attitude towards this technology, to understand their expectations, their readiness to study in electronic educational environment, their readiness to use their own mobile devices for formal education, etc.
Research Questions
What is the place of e-learning in modern education and what are the main opportunities of it?

Do students need special skills to gain knowledge efficiently by means of e-learning?

What conditions and devices should be provided to implement e-learning in the process of education?
Purpose of the Study
The purpose of the study is to analyze the viewpoints of students attending institutions of higher education at e-learning and their readiness to take part in it; to study the current situation in the sphere of e-learning, and to define its place in the modern education from the point of view of students.
Research Methods
In the process of study we analyzed world teaching experience in formal and non-formal education, e-learning and blended-learning; systemized; surveyed Russian students' subjective points of view on the use of modern information technologies in their educational process. We have conducted the questionnaire among Russian students to find out their attitude towards e-learning. Upward of 800 students from 17 Universities of Russian Federation took the survey.
Findings
E-learning in modern education: its place and opportunities
More than half of students surveyed find e-learning promising and future-oriented. The reasons are different: 83% of respondents prioritize the possibility to choose individually the appropriate time for learning over other advantages of e-learning, 68% put first the possibility to study outside the walls of university, 57% value the opportunity to get additional education, and 41% appreciate the chance to expand knowledge sources (Figure 01 ). Also, 80% of respondents consider the specific character of the discipline "Foreign language / Foreign Language for specific purposes" (necessity of listening to audio, watching video, reading actual text materials etc.) an adequate basis for using e-learning while realizing the course. Moreover, 33% of students think that 40-50% of time of educational process should be in electronic form and 23% of respondents consider more than 50% of time necessary for e-learning.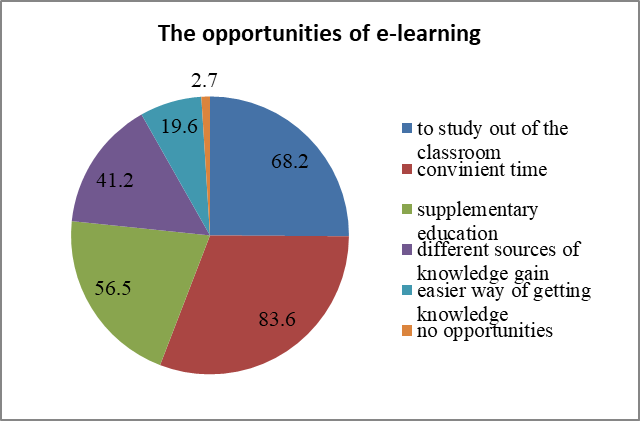 Do students need special skills to gain knowledge efficiently by means of e-learning?
Almost 60% of students consider it necessary to gain special skills while taking part in educational process by means of e-learning (Figure 02 ).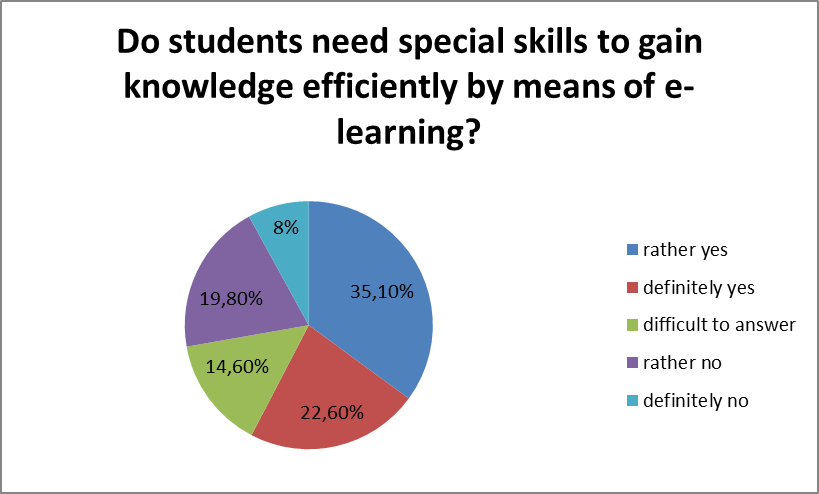 Conditions and devices necessary to implement e-learning in the process of education
75% of the surveyed would prefer to use their own portable devices instead of university's desktop computers, as long as regular broadband Internet is provided throughout the entire territory (Figure 03 ). Along with that students mark some other indispensable conditions of successful implementation of e-learning at university: accessibility of course content 24/7 (69%); opportunity to form a personal trajectory of studying (43%); cross-platform access to course content with the help of devices functioning on various operating systems: Windows, MacOs, Android, iOS etc., and cross-browser access to course content with the help of different browsers: Edge, Chrome, Safari, Mozilla Firefox etc. (58%); use of actual course content of various modality – video, audio, text, infographics etc. (60%).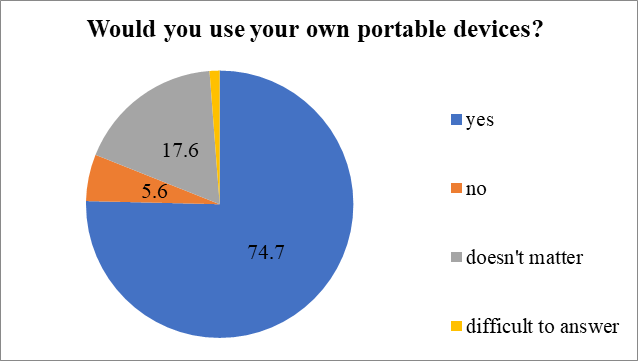 Conclusion
On the ground of the survey result analysis the following conclusions could be made. Effective implementation of all-round e-learning will be possible on condition that students' opposition is reduced which is possible in case of well-structured education. It is essential to take into account needs and peculiarities of students belonging to digital natives' generation. Despite the fact that most students are ready for e-learning and appreciate its multiple advantages there still exists the need – as is clear from our survey – of precursory forming of special skills.
Most students would prefer to use their own portative devices for studying – it corresponds with the concept BYOD. To implement this, it is necessary to provide permanent technical support (regular broadband Internet, cross-platform and cross-browser access) and also good methodical support.
We are positive that the information got from preliminary analysis of basic members' of education operations attitude towards supposed changes, connected with e-learning implementation, can be used for smoothing the opposition in relation to changes. If taken into account, these changes can be controlled and the opposition can be effectively negotiated.
About this article
Publication Date
30 December 2018
Article Doi
eBook ISBN
978-1-80296-050-1
Edition Number
1st Edition
Subjects
Communication studies, educational equipment,educational technology, computer-aided learning (CAL), science, technology
Cite this article as:
Bondarev, M., Opryshko, A., & Trach, A. (2018). University Students' Readiness For E-Learning: Replacing Or Supplementing Face-To-Face Classroom Learning. In V. Chernyavskaya, & H. Kuße (Eds.), Professional Сulture of the Specialist of the Future, vol 51. European Proceedings of Social and Behavioural Sciences (pp. 1151-1160). Future Academy. https://doi.org/10.15405/epsbs.2018.12.02.124