Abstract
Business incubators have now been recognized as effective tools in providing business assistance to start-up firms. In both developed and developing countries, the number of incubators are growing tremendously. As the birth rate of incubators increases, so do its challenges. Malaysia, as one of the developing countries in the Asian continent, has also established a number of business incubators to breed and foster the growth and survival of start-up firms. Thus, this study discusses the incubation model applied in Malaysia and the challenges faced by these incubators using secondary data including policies, previous literatures and reports related to Malaysian incubators. The findings of this study call the government to rethink the key role of incubator managers and staffs, internal structure of the incubator concept and process, intellectual properties management, strategic alliances with universities-industries and financial assistance in enhancing the support provided by the business incubators in Malaysia. The key challenges highlighted in this study signal important policy lessons for other developing countries that aim to create and map an effective business incubator ecosystem.

Keywords: Business incubatorsincubation challengesfunding supportincubator managersinternal structurestart-up firms
Introduction
Small and medium-sized enterprises (SMEs) has widely been recognized to play a surprisingly critical role in creating jobs and stimulating the growth of an economy (Paul, Parthasarathy, & Gupta, 2017). Despite of the significant contribution of SMEs to the economy, in the practical perspective, critical challenges and difficulties which lead to high failure rate in the business still lie ahead (Paul et al., 2017; Rasmussen, Mosey, & Wright, 2014). Literature has indicated that 53 percent of SMEs fail within their first three years of operation (Mason, 2014). Specifically, 9 out of 10 start-ups have failed (Patel, 2015). This indicates that the start-ups indisputably face great challenges particularly due to their liabilities of newness and smallness in the industry (Chandra, Chao, & Astolpho, 2014).
Malaysia, a developing country in the Asian continent, has been making a significant progress in its economic development over the past two decades. In this country, SMEs have been recognized as the backbone of its economy (Umrani, Johl, & Ibrahim, 2017) whereby in 2011, SMEs accounted 97.3 percent of total establishments in Malaysia (Department of Statistics Malaysia, 2011). The figure explains 645,136 SMEs compared to 17,803 large firms (Department of Statistics Malaysia, 2011). Out of 645,136 SMEs 77 percent (496,458 firms) are micro enterprises. These micro enterprises can be categorized as start-up firms as they only employ less than 5 full-time employees. This statistic draws attention that start-ups contribution is crucial for the Malaysian economy.
However, despite various government supports, programs, and funding targeting the SMEs by government agencies such as Small and Medium Enterprise Corporation Malaysia (SME Corp Malaysia) and Malaysia External Trade Development Corporation (MATRADE), the failure rate is still high. As reported by seminal works on SMEs in Malaysia, the failure rate among these establishments was at 60 percent (Ahmad & Seet, 2009; Chong, 2012; Khalique et al., 2011). Therefore, as one of the efforts to escalate success rate and survival of SMEs, business incubator programs have been adopted (SMIDEC, 2007). Interestingly, 67 percent of public owned incubation centers in Malaysia are heavily subsidized. This shows that in ensuring the success of start-up creation, the start-up firms have to rely heavily on government support.
Over the last two decades, the Malaysian government has been initiating many incubation centers merely to promote and fulfil the underlying needs for start-up firms. In the 2017 Malaysian budget, the year 2017 was declared as Start-up and SME Promotion Year (Business Insider Malaysia, 2017). Although the government plays a vital role and catalyst for facilitating and fostering the development of incubation programs in Malaysia, the service provided by the business incubators is still at lower level. A key finding from the literature identifies that 68 percent of the business incubators in Malaysia are still in the first and second generation models, whereby at these stages, the business incubators only provide shared physical facilities and advisory services to their respective incubated firms. The Malaysian incubators, at this stage, are lack of support from the management of which its availability is generally on request (SME Corp, 2012). Therefore, this study aims to discuss the emerging challenges faced by business incubators in Malaysia. These challenges, if not wisely tackled, will cause hiccups in incubation process and distort its ability to provide core value proposition in the globalization world.
Definition of Incubator
Business incubator has become one of the most widely utilized tools to foster the development of start-up firms in early stages. According to the European Commission (2002), business incubator is an institution that provides entrepreneurs with a conductive business environment to assist them in establishing and developing their business. By providing a 'one-stop' service, it enables a reduction in the overhead costs by sharing facilities and improves the survival and growth prospects of start-ups and small firms at the early stage of business development. The services provided by an incubator can be classified into five types which are (1) physical infrastructure, (2) office support services, (3) access to financial supports, (4) process support, and (5) access to network (Pauwels, Clarysse, Wright, & Van Hove, 2016). Taking into account the evolution (Bruneel, Ratinho, Clarysse, & Groen, 2012) and heterogeneity (Barbero, Mike, Alicia, & Garcia, 2014) of business incubation models over time, Table 1 presents the evolution of business incubator's characteristics and value proposition for sustainable competitive advantage in facing the challenges generated by technology development and increasing globalization.
Incubation Model in Malaysia
In order to understand and access the impact of business incubators on incubated firms, recent researches viewed the value proposition offered by the incubators in generational terms and has been spanning over decades ( Bruneel, Ratinho, Clarysse, & Groen, 2012; infoDev/The World Bank, 2014; Theodorakopoulos & Kakabadse, 2014). However, as there are differences in economic, social, cultural and environmental areas, no one standard fit model can be applied to all incubators (Machado, Silva, Borba, & Catapan, 2015).
In line with this reason, Malaysian incubation models have undergone several evolution movements over the years. Basically, they are classified into four generations based on the period of change (SME Corp, 2012). Figure 1 depicts this generation classification. The first generation incubation models entail business incubators that focus solely on providing real estate services and some shared physical facilities. On the other hand, the second generation business incubators provide specific advisory services that are mainly based on the particular specialisation of the incubation center. Support from the management at this stage is generally on request. The third generation business incubators marks a significant change in terms of services, as these business incubators extend their services by providing business support (mentoring, coaching, business advisory), marketing support (market access, network, marketing services) and facilitation for access to funding sources such as grants, project financing, loans, venture capital, and investors. Currently, incubation models are at the fourth generation phase. At this very stage, the services delivered by the incubators widen such as greater support and add internalization value of their clients' business, seeking access to global funding, international alliances and international markets.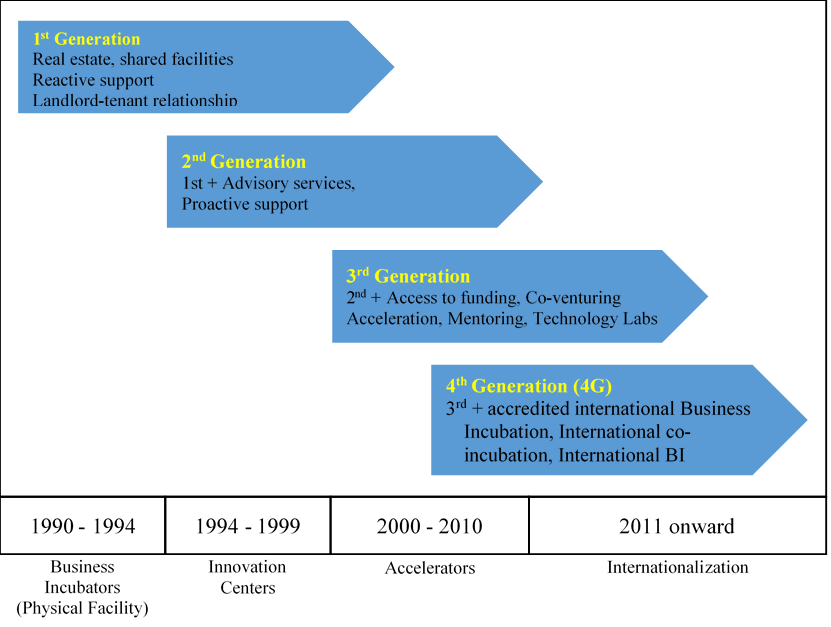 Source: SME Corp (2012)
Role of Incubation in Malaysia
Besides transforming the Malaysian economy into a knowledge-based economy, business incubators programs has also been seen to shed light to the SMEs as they provide a nurturing business environment to accelerate the development of entrepreneurs. (Indiran, Khalifah, Ismail, & Ramanathan, 2017; InfoDev, 2010; Jusoh, 2006). Among the roles played by the Malaysian incubators are to create wealth and contribute to economic development by generating employment, comemercializing new product or process to the market, encouraging research and development activities, link with universities and research institutes, support for development of start-ups (Jamil et al., 2016), help entrepreneurs to start or expand their business, increase survival rate of entrepreneurs (SME Corp, 2012), strengthen collaboration and facilitate technology transfer (Ong & Hassani, 2011) and innovation (InfoDev, 2010) and commercerlize ideas and university research with spin-off companies (Indiran et al., 2017).
As the roles of an incubator are vital, Malaysia has groomed a considerable number of incubator centers. According to the Technology Park Malaysia (TPM), there were 113 active business incubators in Malaysia in 2015 of which 95 of them were government-funded and 18 were public- funded incubators. A report by SME Corp in 2012 has outlined a realistic indication of Malaysia incubation scenario that 68 percent of business incubators in Malaysia are in the first (20%) and second (48%) generations. Meanwhile, 29 percent of business incubators are in the third generation and only 3 percent fall in the fourth generation (Table 3 ). This statistic infers that critical key elements need to be expeditiously identified and given attention so that Malaysian incubators could move one step higher and upgrade their status from the first and second generations to the third and fourth generations in the near future.
Problem Statement
Although given task to develop and nurture the SMEs, business incubators often lack adequate competence to contribute positively to the development of SMEs. Previous studies have addressed the challenges faced by business incubators in developing countries such as client acquisition and SMEs enrolled, inefficient management, support structures, rarely self-sufficient, lack of technological facility and limited entrepreneurial skills (Lose & Tengeh, 2015). Aligned with the foregoing challenges, the business incubators are having difficulties in order to create a conducive ecosystem, regardless of countries and context, which may ultimately effect the performance of business incubation. Even though, there are relatively high investment on incubator programs by the government and private institution, there are lack of empirical evidence on the impact of business incubator programs on the SMEs, particularly in Malaysia (Abdul Khalid, Gilbert, & Huq, 2012). In addition, there are limited studies on the challenges faced by incubators. As such, this study is conducted to explain the challenges lay ahead of the business incubators in Malaysia.
Research Questions
There are two objectives of this study:
to provide an overview of business incubation in Malaysia, and

to identify the challenges faced by business incubators in Malaysia.
Purpose of the Study
The main purpose of this study is to identify the challenges faced by business incubators in Malaysia. However, in order to have a better understanding, this study, first, reviewed an overview of business incubation, followed by the models and role incubators in Malaysia. Thus, findings of this study classify the challenges into four aspects; (i) human capability, (ii) support structure, (iii) access to network, and finally (iv) access to funding, which can be associated ultimately to the performance of business incubation.
Research Methods
This study searched a relevant previous literature on the challenges of business incubation in Malaysia particularly, regardless of managerial, operational, or financial aspect. The search includes the online and offline materials using secondary data such as policies, previous literatures and reports related to Malaysian incubators;
Findings
Despite the growing interest in incubation programs and the benefits gained by the incubated firms, the challenges faced by the incubators are numerous, particularly in developing countries (Lose & Tengeh, 2015). Malaysia now, is moving forward from an innovation-based to a knowledge-based economy whereby its focus is in line with the objectives of SME Masterplan 2012-2020. Business incubator programs has been identified by the government as a strategy to generate greater impact to SME development. Thus, tremendous support has been given by the government including a huge number of financial assistance allocated to incubator programs (SME Corp, 2012). Yet, there are many challenges faced in the process of incubation in Malaysia.
Conclusion
This study provides a view regarding the challenges faced by Malaysian business incubators from a different angle ranged from the nearest degree such as human capability of incubator, followed by the challenges in the process of incubation internal processes to the furthest degree such as external network. The finding calls for the government to take few caution steps. Firstly, the government has to enhance the role of incubator managers and team by providing more training and exposure on incubator management as well as on recruiting competent staffs to be a part of the team. Secondly, the government has to strengthen the system and process by having a standard incubation definition and concept, improving IP management and increasing R&D activities. Finally, the government has to increase strategic alliances among incubators and university, industry and other professional board through effective communication and international linkages. The key barriers highlighted in this paper should be important policy lessons for any developing country that aims to improve its incubators' success. However, this study neglects to unfold and discuss on incubated firms' challenges, which are hoped to be covered in future research. Stemming from this finding, the researcher of this study is exploring on how these challenges can be tamed by using intellectual capital model and thus recommed future research to exploit the notion 'intellectual capital' in business incubators-incubation context by providing empirical evidence.
About this article
Publication Date
31 July 2018
Article Doi
eBook ISBN
978-1-80296-043-3
Edition Number
1st Edition
Subjects
Business, innovation, sustainability, environment, green business, environmental issues, industry, industrial studies
Cite this article as:
Indiran, L., Khalifah, Z., & Ismail, K. (2018). The Challenges Of Business Incubation: A Case Of Malaysian Incubators. In N. Nadiah Ahmad, N. Raida Abd Rahman, E. Esa, F. Hanim Abdul Rauf, & W. Farhah (Eds.), Interdisciplinary Sustainability Perspectives: Engaging Enviromental, Cultural, Economic and Social Concerns, vol 44. European Proceedings of Social and Behavioural Sciences (pp. 471-482). Future Academy. https://doi.org/10.15405/epsbs.2018.07.02.51